October 11, 2009
By Stephanie Bonner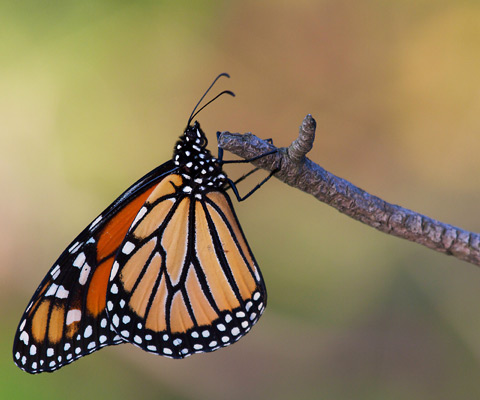 Photo by: Mr. Pierre Dunant of Saint Lambert, QC
Being born. Taking your first step. Losing your first love. Getting married. Giving birth. We're no strangers to journeys. They propel life forward. Take Five's regular contributor, Stephanie Bonner, is taking a grand journey of her own this October—from Miss to Mrs. Her leap into matrimony has gotten us thinking about all the great journeys that life has to offer. Let's delve in to nature's top five greatest journeys: the ones that bring species thousands of kilometres from home.
71,000 kilometres
The Arctic tern makes the longest migration of any animal across the globe, flying 71,000 kilometres a year. This tiny but mighty bird zigzags from Greenland to Antarctica annually. Researchers estimate that as Arctic terns can live for more than 30 years, they'd cover 2.4 million kilometres in their lifetime. That's three jaunts to the moon and back!
40,233 kilometres
Looking for speed? Look no further than the tuna. It's salt water's fastest-swimming migratory fish. The Census of Marine Life found that at least one tuna made a 40,233-kilometre journey from the U.S. to Japan. That's one heck of a long swim.
19,312 kilometres
Leatherback seaturtles migrate farther than any other reptile on Earth. En route to nesting and feeding grounds, they can travel across entire ocean basins, including the Atlantic, Pacific and Indian oceans. Researchers have recorded Pacific leatherbacks trekking over 19,312 kilometres in just 647 days.
7,000 kilometres
Monarch butterflies flap their wings over a 7,000-kilometre expanse to their overwintering spots. This journey can actually cover three to four generations of monarchs, with young taking up the lead and trudging onward. Some monarchs have been found flying one kilometre above the ground!
4,828 kilometres
North America's caribou populations migrate farther on foot than any other mammal. Their journey can take them nearly 5,000 kilometres away! Why the move? In the winter, caribou migrate to forested areas to seek shelter and grab a snack, whereas in the summer they migrate to better calving grounds and also to escape pesky bugs.