By Tobi McIntyre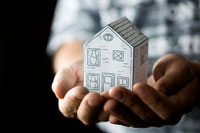 Does your blood pressure rise with energy prices at the thought of heating your home this winter? Instead of pumping money into heating fuel, make your home more efficient this winter.
There are four main sources of energy-loss in the home: air drafts, lack of insulation, heating and lighting. Completing and acting on a home energy audit is a small task that can add up and make a big difference. By taking steps to increase home energy efficiency, the average household could save roughly $400 a year and eliminate two tonnes of carbon emissions — actions that not only save you money but also the environment and wildlife.
Air drafts
A leaky house can cost you up to 30 per cent in wasted energy each year — a problem that can easily be fixed. Check any openings to the outside, such as electrical outlets, light-switch plates, window frames and doors, wall- or window-mounted air conditioners, pipes, wires, foundation seals and mail slots. Add gaskets to leaky outlets or plates (make sure you turn off its energy supply first!) and caulk holes around pipes, wires, air conditioners and foundation seals. If your windows or doors are more than 15 years old, consider replacing them with newer, energy-efficient models.
Insulation
The amount of heat lost through poorly installed or thinly insulated homes could heat three million homes per year. By ensuring your roof and walls are properly insulated, you will be saving at least 25 percent of wasted energy annually. Check the insulation in your attic and walls. For northern climates, there should be at least 30.5 to 41 centimetres (12 - 16 inches) of blown insulation or batting in your roof, which gives an insulation rating of R-40. Your walls should have six inches of batting (a value of R-20), but to make them more efficient, you could add one inch of rigid insulation, which would increase your insulation rating by R-5. Most importantly, verify that there is a continuous plastic covering sealing the warm side of your insulation. This is called a vapour barrier and is instrumental in stopping air drafts. Finally, ensure attic vents or soffits are not blocked by insulation, and seal any electrical boxes with caulking.
Heating and cooling
Ensure any heating or cooling equipment in your home has a yearly inspection. Not only will this improve safety but a well-tuned furnace or air-conditioner with new filters will run more smoothly and require less energy, saving you as much as 20 percent of lost energy per year — sometimes more. If your unit is more than 15 years old, consider replacing it with a new, energy-efficient model. Also, check any duct work for dark streaks. This could indicate an air leak, which you can seal with duct mastic. Insulate your ducts when they travel through unheated areas.
Lighting
Home lighting accounts for 10 per cent of your electricity bill each year. There are two simple cost-effective actions you can take to increase the energy efficiency of the lights in your home: Replace old energy-hogging light fixtures for newer energy-efficient lamps, and replace incandescent bulbs with compact fluorescents. If you replaced just five standard incandescent light bulbs with compact fluorescents, you would be eliminating almost half a tonne of carbon dioxide emissions each year.
To get started, download the Energy Audit Checklist to do a thorough inspection. Or, check out our action fact sheets to learn more ways to help the environment.