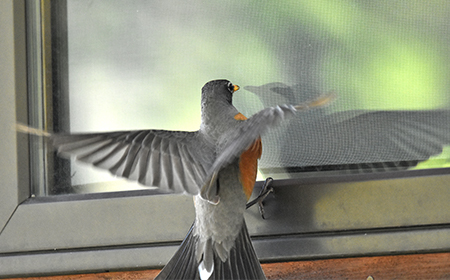 Many of us have heard the dreaded "thud" of a bird hitting a window. Some birds can fly off right away, others are stunned (and probably sore!) and need a few hours before they can fly off, while others die on impact. Birds don't see windows and glass the way we do. Instead, they see a reflection of the surrounding trees and sky and think it's a navigable space. Unfortunately, this misunderstanding leads to millions of birds dying annually. While some bird strikes occur from birds hitting tall buildings, many also occur from birds hitting the windows of smaller buildings, such as houses.
Over the years, people have tried to prevent these deaths and injuries by hanging ribbons and old CDs in windows. Some have also used hawk silhouettes that stick to windows to alert birds to keep back. But it turns out these methods don't always work. Birds often think they can navigate their way through the spaces between the markers.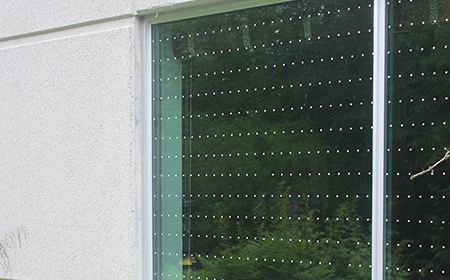 Last summer at CWF headquarters, we speckled our windows with Feather Friendly® window markers. These little white dots are small enough to be overlooked by the human eye but visible enough to keep birds away. The dots come on strips that can be applied row by row to windows. At the correct spacing of five centimetres between each mark, they alert birds that something is there and that the space between is too small for even a chickadee to navigate through.
While we have only had the dots in place for a short time, they seem to have successfully reduced bird strikes. This system has also been used by the Toronto Botanical Garden, where it appears to be equally successful in reducing bird collisions. In fact, one report from a cottager tells of an immediate difference once the markers were applied. This is encouraging after years of methods that are both marginally effective and can be an eyesore.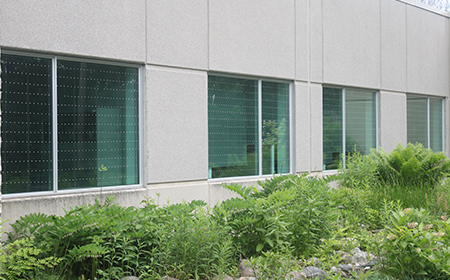 CWF got the Feather Friendly® markers from Safe Wings Ottawa – a "program of the Ottawa Field-Naturalists' Club to reduce bird mortality from window collisions through research, prevention and rescue." If you are interested, you can also get this product online from the manufacturer or ask at your local bird specialty store.
The CWF staffer who applied the tape has the following tips should you use this method at your home, cottage, school or business: Make sure the window is clean and dry so that the film has a better chance of sticking. Heat can also make adhering difficult, so leave the roll indoors at room temperature when not in use and apply on a day when the temperature is not overly hot. (Note that the plastic film doesn't have a sticky backing and is easy to peel off if needed).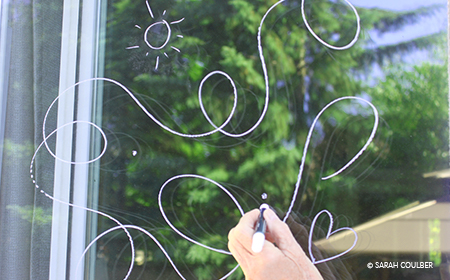 Another method that is reputed to work is drawing marks on the outside of your windows with soap or a special oily chalk designed for glass and mirrors. This can be a fun way for you and your children to mark your windows. Soap and oily chalk are both easy to apply and remove, although they may not last as well during heavy rain and wind. Don't be tempted to draw on the inside of windows as this is not believed to be as effective. And remember to draw the marks close enough together.
For more ideas on what products and methods do and don't work, visit our site.
Copyright Notice
© Copyright Canadian Wildlife Federation
All rights reserved. Web site content may be electronically copied or printed for classroom, personal and non-commercial use. All other users must receive written permission.