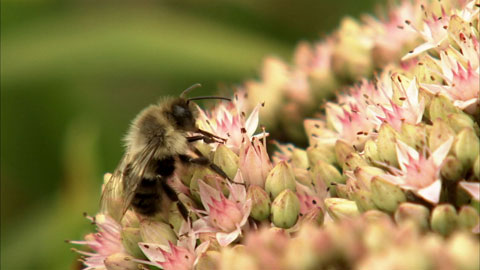 Help scientists monitor the changing health and status of pollinating insects in Canada by joining the nation-wide survey of pollinators sponsored by Pollination Canada.
Convert all or part of your lawn to wildflowers or perennial gardens that will provide valuable habitat for pollinating insects and birds. Visit our WildAboutGardening.org website for ideas.
Plant a variety of perennials that produce flowers of different shapes, colours and blooming times. Not surprisingly, native species are best for encouraging our home-grown pollinators.
Reduce or eliminate your use of pesticides and herbicides that poison friend and foe alike, and that accumulate in the environment that we all share. If pesticides can't be eliminated entirely, avoid their use at blooming times.
Create habitat for pollinators as part of a WILD School habitat. Visit the CWF Education website for more information.
Write to your municipality and school board and ask them if they have a "no cosmetic pesticide" policy. If they have a policy, congratulate them. If they do not, ask them to consider it.