By Sandi Winter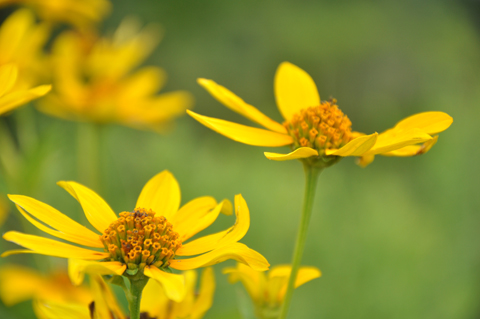 Photo: Sage Barker, CWF Photo Club
Images by Sarah Coulber, CWF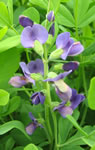 False blue indigo
One of my favourite reasons for watching the current plethora of home-design TV shows is the chance to see endless new and exciting ways to use flowers to dress up a room. The one-upmanship of the designers has led to some really fun and interesting cut flower arrangements that help us look at colour and combinations in a whole new light. No longer are we tied to rules in proper use of the colour wheel and the rigid shapes formerly thought to be acceptable for floral design. Moreover, the types of plants used have expanded to include everything from houseplants to bulbs to shrubs and every plant part from the stems to flowers to leaves.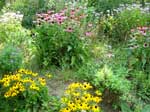 Garden in full bloom with coneflowers, brown-eyed susans, asters, and bergamot.
A bouquet of flowers can brighten up any room in the house as much as a new painting or piece of furniture. Even the smallest garden has room for a few plants that can be used for cutting. When choosing plants to add to the garden look for those that have good lines and produce lots of stems over the greater part of the season. North American native and naturalized plants can be relied on to look good without a lot of care and attention and many make excellent additions to a fresh arrangement. Every season — including winter — offers a variety of wonderful plant materials to help you create a stunning bouquet. A list by season is included below.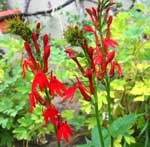 The brilliant red blooms of the cardinal flower.
For best results, head out to the garden with a pail of warm water in the morning before the dew is off the plants. Using sharp secateurs or a knife cut stems cleanly on a slant. In general, the best choice for long vase life is the flower that is just beginning to open. Plunge the stem deep into the water first removing all foliage on the bottom half of the stem and keep the pail in a cool dark place for several hours. Some plant materials require extra treatments to help them absorb water such as slitting the stems of a woody plant or searing the ends of stems which otherwise exude sap.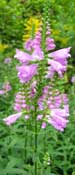 A naturally occuring pink strain of the white obedient plant.
Once the cut flowers have been hardened in this manner they are ready for arranging. Cut the stem again, preferably under water to prevent air bubbles from entering stems and blocking water intake. A drooping flower head is a sure sign that this step has been omitted. Some other useful techniques to keep your arrangement fresh as long as possible include:
The addition of a sugar cube to the water to add nutrients
a few drops of household bleach will kill any harmful bacteria in the water
a dash of non-iodized table salt helps the stems absorb water
place away from drafts such as air conditioners or fans
use clean containers and sharp cutting tools
keep out of direct sunlight, heat and steam
recut stems daily and renew water
Please note that the folklore treatments of adding pennies or aspirin to the water do nothing at all. If flowers wilt for any reason place about three inches of their stem ends in hot water and let it cool until the material has revived.
How to combine these cut materials is entirely up to you. There is no right or wrong and if it looks good to you then what else matters? Beauty, after all, is in the eye of the beholder.
GREAT IN BOTH GARDENS AND BOUQUETS
| | | |
| --- | --- | --- |
| Agastache foeniculum | Hyssop | Fragrant |
| Aquilegia canadensis | Columbine | Interesting shape |
| Asclepias incarnata | Swamp milkweed | flat-topped pink flower |
| Asclepias tuberosa | Butterfly weed | Stunning orange |
| Aster novae-angliae | New England Aster | Great fall choice with goldenrod |
| Baptisia australis | False indigo | Blue for early season |
| Celastrus scandens | Bittersweet | Orange berries |
| Chelone glabra | Turtlehead | Late summer choice |
| Cimicifuga racemosa | Black Snakeroot | Attractive foliage |
| Cornus sp. | Dogwood | Brightly coloured stems |
| Echinacea pallida | Pale Purple Coneflower | Drooping mauve flower |
| Echinacea purpurea | Purple Coneflower | Long lasting in vase and garden |
| Eupatorium perfoliatum | Joe Pye Weed | Cut before flower opens |
| Gaillardia aristata | Blanket Flower | Bright cheery flowers |
| Helianthus maximiliani | Maximilian's Sunflower | Very late season |
| Heliopsis helianthoides | False Sunflower | Easy care |
| Lobelia cardinalis | Cardinal Flower | Stunning red |
| Lobelia syphilitica | Great Blue Lobelia | Clear blue spike |
| Monarda fistulosa | Bergamot | Fragrant |
| Panicum virgatum | Switch grass | Foliage choi |
| Oenothera biennis | Evening Primrose | Bright yellow summer bloomer |
| Penstemon digitalis | Smooth Penstemon | White bells in June |
| Phlox divaricata | Blue Wood Phlox | Lovely soft blue |
| Physostegia virginiana | Obedient Plant | Combines well with any colour |
| Rudbeckia hirta | Black-eyed Susan | Happy late summer flower |
| Schizachyrium scoparium | Little Bluestem | Great addition to arrangements |
| Solidago nemoralis | Grey Goldenrod | Good for cutting and drying |
| Verbena hastata | Blue Vervain | Nice filler |
| Veronicastrum virginicum | Culvers Root | Interesting shape |
Sandi Winter is a professional garden designer and horticulturalist with over 10 years experience who owns and operates Rideau Nursery located in North Gower, Ontario.