By Stephanie Bonner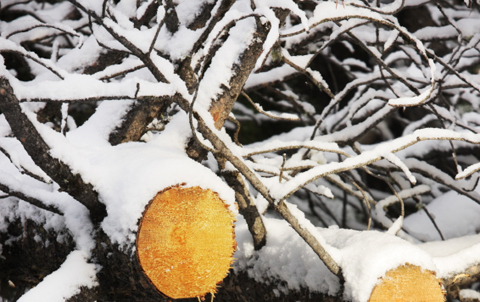 Have you made your list and checked it twice? Don't forget the critters in your own backyard! Here are five ways that you can support wildlife this Christmas.
Help the Hurt — Find a local wildlife centre and see what they might need. Everyday local wildlife rehabilitation and rescue centres work tirelessly to create a safe and healing home for injured or abandoned wildlife. Facilities like these allow a variety of species to grow strong and healthy, while providing experienced individuals to reintroduce wildlife to their natural habitat. Yet they are constantly in need of many supplies, volunteers and foods. Call or email these facilities to find out what may be on their wish list. Get family and friends to help out
Trash or Treasure — Instead of putting that pile of trimmed maple tree branches on your curb for pick up, put them in a pile somewhere on your property for the winter (above). Leaves, rocks and twigs are great as well. You will be providing a safe shelter from the elements to many local song birds, small mammals and overwintering species.
Double Your Gift — Share your holiday cheer with wildlife and those you love by making a donation to CWF. It truly is double the gift because it will put a smile on your family's faces and contribute to a variety of ongoing projects at CWF. Get more information on where your donation dollars have gone and can go.
Comfort from the Cold — Take comfort in the fact that hibernation and migration are innate behaviours for wildlife. They are born with the ability to know where and when they should prepare for winter. Most wildlife have already migrated to a warmer climate or are tucked in and hibernating away from the elements for the next few months. Take your time through these long winter nights to plan a bountiful native plant garden for spring. Visit WildAboutGardening.ca to learn how to fulfill local wildlife's needs in your garden in 2010.
Food for Thought — Although you might feel that providing a tray of food or kitchen scraps to wildlife near your home is a good idea, it can actually do more harm than you think. Wildlife will start to depend on these scraps as a food source and reduce the time they spend searching for and gathering foods found within their habitat. If you aren't able to continue feeding them in this way, the animals that have come to depend on the food may starve. But if you insist on feeding wildlife, make sure the supply you provide is digestible and natural. And as long as it is continuous, foods like birdseed and peanuts are welcomed; stay away from breads and manufactured foods.