By Stephanie Bonner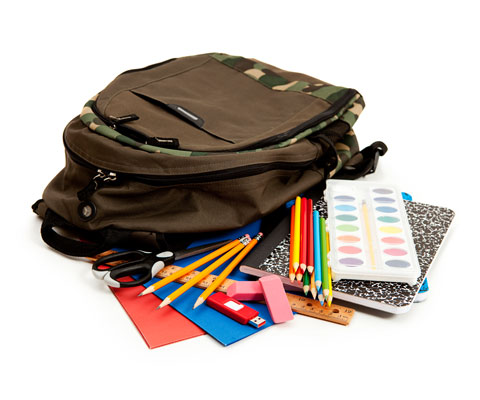 Can you feel that back-to-school crispness in the air? As September rolls in, so do cooler temperatures and preparation for another busy school year. Throughout the course of the year, kids will utilize a lot of school supplies and materials but that doesn't mean there has to be a lot of waste produced as a result. This month's Take Five focuses on helping you make eco-friendly shopping choices that can minimize your environmental footprint.
Disposable lunch bags vs. Reusable Containers
This is an easy change you can make in your lifestyle, not just for back to school. By purchasing reusable lunch containers you're saving hundreds of plastic bags from ending up in the landfills, and saving yourself money. A Tupperware container for sandwiches, and a reusable bag for lunch is a great place to start.
Plastic binders vs. Recycling Last Year's
We know that sometimes, binders don't come home in the greatest shape, or they might not come home at all. But if they do, why not spend some quality time with your kids and create a snazzy new binder cover with craft supplies. If your tween or teen is too cool for crafts, many stores are now selling recycled material binders and paper. Just ask a salesperson to point you in the right direction.
Bulk Plastic Water Bottles vs. Reusable Water Canister
How many times have you seen a perfectly recyclable water bottle in the trash, or on the soccer field after a game? Instilling environmentally friendly values in your kids might not always be easy, but it'll leave a lasting impression on them. So pick up a reusable water bottle for them and let them fashion it with stickers of their latest craze – from Twilight to Justin Beiber. They'll be the envy of their peers, and heck, they might even start a trend.
New Ink Cartridges vs. Ink Refills
Printers are a necessary component of research projects and assignments and will be important in your child's school career. The act of refilling your ink cartridges instead of buying new is a simple change you can make and feel good about.
Big Box Retail Clothing vs. Upcycling Clothes
Have you heard about upcycling? It's is the process of converting old products into new materials of better quality or of a higher environmental value. Instead of emptying your wallet at the mall for back to school clothes, why not empty your kids' closets and reinvent last year's clothes? Haven't got the time to create your own upcycled look? Don't worry. More and more retailers in Canada are catching on to the craze and opting to go eco-friendly.
Copyright Notice
© Copyright Canadian Wildlife Federation
All rights reserved. Web site content may be electronically copied or printed for classroom, personal and non-commercial use. All other users must receive written permission.