January 17, 2018
CWF Joins Canada Service Corps: Inspiring young Canadians to build a better Canada through conservation
OTTAWA, Jan. 17, 2018 -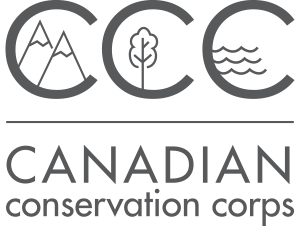 Youth will soon be travelling by dog sled, helping species like turtles and eels and having a whale of a time with the Canadian Conservation Corps, a new service program funded by the Government of Canada as part of the Canada Service Corps.
"Thanks to the federal government these youth aged 18-30 will be able to spend nine months learning from conservation and education specialists, three months implementing their own environmental action projects and a lifetime building a better Canada," said Rick Bates, CEO of the Canadian Wildlife Federation (CWF).
As part of the Canada Service Corps announced by the Prime Minister Jan. 16, the Canadian Conservation Corps aims to support young Canadians to get involved in their community through service opportunities while at the same time gaining valuable skills that will benefit them in life and work.
"The Canadian Conservation Corps offers young people the opportunity to explore and experience Canada while making contributions to the conservation of wildlife and habitat. Young people will have the chance to implement their own environmental action projects while building a better Canada through community service," said the Hon. Patty Hajdu, Minister of Employment, Workforce Development and Labour.
The Canadian Conservation Corps will recruit 90 participants, half from areas where young adult conservation programming is currently available and half from underserved parts of the nation. This will enable a twinning component, where youth from different regions can learn from each other. The program has three parts:
An expedition in an unfamiliar region of Canada that will help participants learn about themselves, their peers and the community at large

A field work stage where participants will team up on the Canadian landscape with environmental experts in three broad categories: habitat creation and restoration, wildlife management and/or environmental science.

A community outreach and service stage in their home communities where participants will inspire their peers and younger youth to improve their environment through service projects. The Canadian Conservation Corps is a natural addition to CWF's broad range of public engagement programs which include Help the Bats, Help the Turtles, Hinterland Who's Who, Love Your Lake and Wild Family Nature Clubs.
Many partner organizations will welcome opportunities to work with the participants in the field following their core training. This may include parks, nature centres, fresh water and marine programs.
The first adventure begins this February in Ontario.
To learn more and get involved, visit CanadianWildlifeFederation.ca
About the Canadian Wildlife Federation:
The Canadian Wildlife Federation is dedicated to fostering awareness and appreciation of our natural world. By spreading knowledge of human impacts on the environment, sponsoring research, promoting the sustainable use of natural resources, recommending legislative changes and co-operating with like-minded partners, CWF encourages a future in which Canadians can live in harmony with nature. Visit CanadianWildlifeFederation.ca for more information.
-30-
Contacts:
Heather Robison
Media and Community Relations Officer
heatherr@cwf-fcf.org
(613) 599-9594 x 212
Pamela Logan,
Communications Director
pamelal@cwf-fcf.org
(613) 599-9594 x250
BACKGROUNDER
In 2018 there will be five youth groups joining the Canadian Conservation Corps at different times of the year with a wilderness journey featured in each team launch. The goal is to offer personalized mentorship, so groups of 10 will be created, half from experienced levels of community service and half novices from underserved areas of the country. The program features nine months of training, team building, field leadership and community service with a focus on conservation.
The dates and locations of the 2018 launches are as follows:
Feb. 12-21: Group One Orientation and Dogsledding, Huntsville, ON

May 13-26 Group Two Orientation and Sea Kayaking, Saint John, NB

June 11-24: Group Three Orientation and Sea Kayaking, Comox BC

Sept. 13-26: Group Four Orientation and Backpacking, Canmore, AB

Sept. 12-25 Group Five Orientation and Canoeing, Huntsville, ON
In 2019 there will be four more youth groups launching with dates and locations to be announced.
FAST FACTS
Each youth group will begin with a week of training at a retreat centre. This training will include goal setting, team building and first aid training.

The youth then head outside on a wilderness journeys which include dog sledding/winter camping for participants beginning the course in February and canoeing, kayaking or backpacking for participants beginning the course other times of the year.

Following the wilderness journeys the participants will receive in person and online training in skills such as conflict resolution, outdoor leadership and community project planning. Participants will also work on their resumes and be assigned to a conservation partner for a three-four month field placement.

Field placements are long term assignments will include a variety of experiences such as spending 9-16 weeks at a turtle centre or helping with terrestrial, fresh water or marine conservation projects. Mentors will be provided.

The goal is to graduate a total of 90 young Canadians reflecting diversity in terms of geography, culture, education, experience, ability and engagement in the Canadian Conservation Corps.

All expenses are covered including travel, accommodation and meals when participants are away from home. The participants will primarily plan and prepare their own meals and stay in a variety of dorm-style venues as well as in tents during training, field placements and wilderness adventures.

Following the first two stages of the program described above which fulfill four-five months of full time involvement the participants will develop and deliver conservation action projects in their home communities, inviting their peers and younger members of the public to join them

The youth groups have three-four months to complete their action projects, during which time they can also obtain personal employment or enroll in other post-secondary education or training programs.
The Canadian Conservation Corps is presented by the Canadian Wildlife Federation with partners to be announced as the project unfolds.
QUOTES
"The best way to ensure that this generation of young Canadians has a connection with the natural world is to have truly experienced it. Through meaningful service learning, young adults will develop diverse skills while learning about themselves and the impact that they can have on the natural world. At the same time, they will be making a real impact in their home community and in communities across Canada." Mike Bingley, Education Director, Canadian Wildlife Federation
"The Canadian Conservation Corps has offered me an incredible opportunity to expand my service experience, engage with different Canadian communities and learn how to conserve our land while maintaining sensitivity to the cultures and wildlife that intersect across it. I'm thrilled make a meaningful contribution to Canadian conservation efforts and look forward to meeting my teammates and the CCC's partners who will surely change my life forever." Holly Vukobrat, age 26, Canadian Conservation Corps Group One Participant
"This inclusive program is designed to help youth learn and reinforce life skills in a fun, hands-on way. Participants will earn certifications and trainings, while being provided opportunities in conservation, in networking and skill development. This unique adventure will open doors that you cannot even imagine. In today's world of global change, there are many opportunities to help, and not always a clear path on how to get there. By experiencing a program such as the CCC, the doors to opportunity are flung open and the sky is the limit to those willing to take the challenge. The stepping stones into conservation programs across the country allow the participants to network, learn and share their passions with others. Each participant will have their own adventure in learning about themselves, others, and the world around them. Who knows where that will lead?" Casey Rose, Youth Leadership Specialist, Canadian Conservation Corps
To learn more, visit:
CanadianConservationCorps.ca
Instagram: @conservationcorpscan Snapchat: @cwfyouthcorps