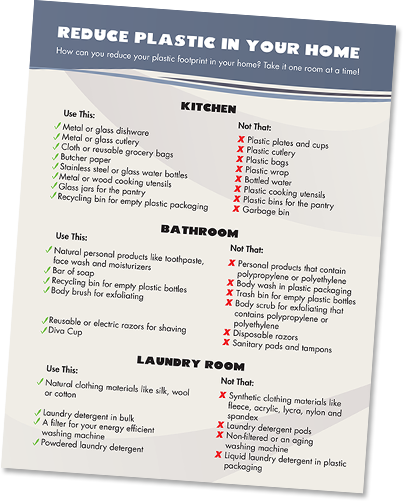 Here are some other ideas to get you on your way to reduce plastic use in your home:
Protect Our Waters from Hazardous Waste
Toxic chemicals, such as solvents, cleaners, and darkroom chemicals, are often dumped down drains because people don't know what else to do with them. A great community service project would be to organize a day for these substances to be safely disposed of.
Build an Amphibian Pond
Building a pond can be an ideal way to attract toads, salamanders, and frogs to your backyard. Keep in mind that frogs hibernate every winter, and that it takes at least three years for tadpoles to develop into adult frogs. You will have to provide these amphibians with a permanent body of water - at least half a metre deep - if you want them to survive beyond their first summer.
Support Our Rivers to Oceans
The Canadian Wildlife Federation is committed to understanding the extent to which plastics are infiltrating our waterways, as well as how they are affecting the wildlife that live there.