<!-\\Default - single specific -->
By Jennifer Howard
Back in 2004, l read an article from Canadian Wildlife Federation about certifying your backyard and making it wildlife friendly. This sounded perfect for me, as l grew up with wildlife surrounding me, and I love the idea of gardening with it in mind.
My family and I have lived in Big Bay Point in Innisfil, Ontario, for almost 21 years now. During this time, I created a garden that felt good to me and was inviting to wildlife.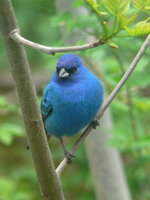 Consequently, I have had many birds and other animals visit our 30- by 45-metre lot, such as rose-breasted grosbeaks, all sorts of woodpeckers, deer, foxes and wild turkeys.
But as time has moved on, the numbers and species have dwindled. For the last five years, we have all been fighting a mega resort (240 hectares) going in up the street. But we lost after a hard battle. Many species at risk are in this area, such as the Blanding's turtle, red headed woodpecker and common nighthawk. So far, thousands of trees have been cut, and I saw a big decline in the number of migratory birds that would normally visit. I have also noticed a decline in the monarch butterfly, having only seen six so far this year.
So we need to help out. And you can. If we want these species to survive, they need to have someplace else to go. l have a big backyard, but that doesn't mean you can't help if you only have a small one. All you need is food, water, shelter and space, and no matter the size of your area, it can work. It's all in the planning.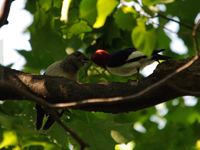 you need to remove any dead or dangerous trees around your yard, leave six to nine metres of the trunk and any strong branches for the woodpeckers and other birds. They need dead trees. You can put houses or feeders up on it, as well.
I also garden organically and make use of mulch and compost in my garden.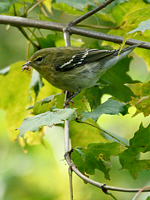 As for water, l have a large pond with fish, and over the years we have attracted 14 green frogs of various sizes that now call the pond home.
I also have a smaller shallow pond with a fountain, which has a variety of birds that come to drink and bathe daily. The squirrels and the odd raccoon with her wee ones come to drink and cool off as well. It really is wonderful!
We have added an arbour over the small pond with lattice, which protects it from the hot sun, as well as hummingbird and oriole feeders, which the baby birds love to play on.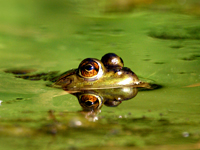 My son built a big double birdhouse, and we mounted it on the arbour. My baby birds use the lattice as a place to wait for Mom or Dad to feed them, and l have a vine growing on it this year. l also have a fence around my little wildlife haven to keep my dog from entering.
With all this habitat, l get many red-headed, pileated, red-bellied, hairy and downy woodpeckers, along with yellow-bellied sapsuckers, northern flickers, cardinals, chickadees, Baltimore orioles, hummingbirds and more.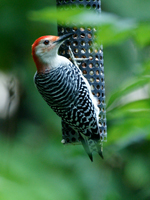 In the summer, they all bring their little ones. Spring and fall brings sparrows, warblers, rose-breasted grosbeaks, indigo buntings and others. This spring, l was very lucky to have two male scarlet tanagers stop by for a nice bath and the splash of colour was wonderful.
l think the funniest thing that has happened here thus far – and there have been many incidents to choose from – is the baby pileated story.
We were having our roof done; it was a hot day and the roofer was hard at work when the pileated dad brought his baby in for a feeding.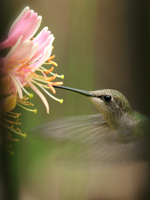 l heard the roofer stop for a minute, then continue on. Dad was feeding at the suet, while baby sat on the arbour, actually watching the roofer. It was so cute. The baby sat there, cocking her head from side to side. I think she thought this guy was a funny-looking woodpecker. After all, he was hammering on the roof, "drumming." Dad paid no mind to him at all and kept feeding. She sat there making her little uh, uh sounds and watching. Clearly, she was very well entertained here. When dad was done, he flew to the trees and baby soon followed. l asked the roofer if he had seen the pair. "Well, yes, l sure did. They almost took me off the roof," he laughed. The pair had startled him as they flew directly overhead, almost touching him as they passed. He thought their visit was the greatest thing! Now, every year mom and dad return to the arbour with their new babies. Dad feeds and baby checks everything out and sometimes Mom comes with the other baby.
Check out what native plants are good to grow in your zone, sit down and make a plan. Be creative. Have fun. This is a great way to introduce your children to our beautiful wildlife. Give them a book to keep track of your daily birds and events. And you will have some great events once you establish your wildlife haven.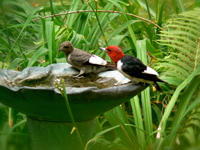 My 10-year-old granddaughter, Ashleigh, loves it here. She helps feed the birds and fish. And she has her own camera, binoculars, bird book and daily journal. She got her mom to put in an area in the back of their yard, with a birdbath, feeders, a few houses, suet and some pretty flowers for the butterflies. It became a nice attraction for the birds and butterflies there. Another bird watcher born in the family!
l never know what l will see when l look out my kitchen window. Everybody who comes here loves it, says it is like a bit of magic in our backyard.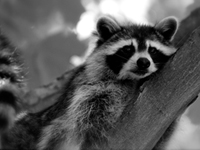 l often go for walks and see nothing and come back to a yard full of birds. So as their natural habitat disappears – and it is disappearing – we can give them a place to go. We will still see declining numbers. We need to save wetlands and forests. But at least with this Certification program, we can make a difference.
I can honestly say it was the best thing I have ever done here and I highly recommend the Canadian Wildlife Federation's Certified Backyard Habitat Program!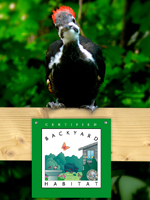 ---
<!-\\Default - single specific -->