<!-\\Default - single specific -->
By Janet Fraser
When we bought this fifty-acre farm adjacent to our existing farmland, it was as an extension to our potato growing operation; we certainly did not have wildlife in mind. Much of it was too wet for row crops, with a swampy area in the middle, a spring pond that fed a small year-round stream and another low area that flooded in spring and fall. So six acres or so was fenced as pasture for horses, and about ten more became permanent hay fields.
It did have a good house site where we put our "hillside house." My thoughts at the time were on creating a country home for our family of five, taking advantage of the south-facing slope to make it as energy efficient as possible. To break the strong west winds, a boundary line hedge of fast-growing white spruce was planted, then a white cedar hedge sheltering the house itself.
While most of my early gardening efforts went toward traditional landscaping with lawns, flowerbeds and a vegetable garden, it soon became obvious that wildlife was a natural bonus when trees and shrubs began to provide shelter and food. The cedar waxwings especially liked the barberries and highbush cranberries. Yellow warblers and song sparrows nested in the juniper bushes, and swallows under the eaves of the barn. Birds of many kinds came to the winter feeders, of course—blue jays, chickadees, woodpeckers, juncos, even overwintering robins.
Gradually, I expanded my garden to include the boundaries of the pastures—seedlings of all description became shade and shelter for livestock. Coincidentally, the mountain ash, yellow and white birch, white spruce, pines and wild apples also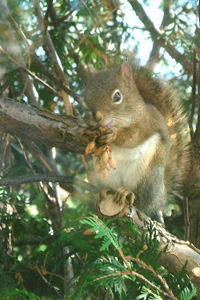 provided food for wild critters. Partridge and their broods of young became frequent visitors. A disused paddock was planted with a few balsam fir (future Christmas trees!), and a black walnut sprouted almost instantly to provide shade. Thus began a favourite area, "the Grove," just west of the new barn, a great snow-stopping windbreak. Soon a wild apple and a hawthorn provided some food for visitors. An old white spruce came down in the south wind and was left to rot, its tall stump becoming a woodpecker home and a 'trellis' for a Virginia creeper vine. Wild raspberries grew up around it, and pruning piles provided shelters.
When the adjacent potato land was sold, my back twenty-two acres went with it. With the sale of my little herd of beef cattle, only three ponies remain on the much shrunken pastures and require very little hay land. So, of late, much has been left fallow and reforestation has been undertaken on several low-lying areas. Only white spruce and larch will compete with grass in old hayfields, so these tough, fast-growing standbys form the basis of the plantations. Birch and poplars will be planted in the "skips" to interrupt the boredom.
Several years ago, my neighbour and I had suitable parts of the swampy area made into ponds by Ducks Unlimited. The shallowest, on my land, is now almost grown over in cattails; the deeper one is home to black and teal ducks, many frogs and such water life. A beaver regularly dams up my neighbour's stream and ventures into mine to poach willows. Last summer a pair of Canada geese successfully raised five goslings there and could often be seen grazing in my old hayfield or peeking up out of the spring pond.
Over the years, my gardening urges usually led me to enlarge the cultivated areas, gradually neglecting the established ones. I called these neglected areas "the wild places." Most of my backyard now consists of wild places! Some, like the centre of the driveway turning circle, were intentionally converted from a vegetable patch where we planted in chokecherry, serviceberry, a grey birch, coneflowers, wild blueberries and (a surprise) wild strawberries. The neglected parts of the vegetable patch have become tree nurseries, where seedling oak, eastern white cedar, white pine, white birch and crabapples grow to transplanting size (or beyond). The three tree orchards, the raspberry patch, currant and cranberry bushes and grapevines, which were all planted to produce food, have been allowed to grow without sprays or lately without pruning. Some of the fruit is pretty gnarly, but feathered and furred creatures think it's great.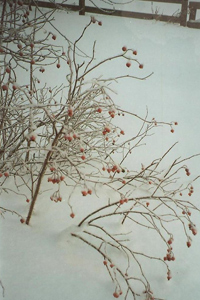 So, as you may have gathered, what has worked for me has been benign neglect, a natural tendency toward untidiness and a large dose of patience. Gardening in a wildlife-friendly way has usually been in the back of my mind, but often well behind such things as windbreaks, snow management and food production. Happily, I have always liked the wild look and found beauty in native plants like bayberry, winterberry, witch hazel, wild raisin, serviceberries and of course the big trees: the elms, pines, maples and beeches. Luckily, I have this twenty-five-plus acreage to play on.
When a red fox vixen raised five kits under our barn, we were entertained for weeks. This past winter, a pair of coyotes frequented the overgrown hayfields, hunting mice no doubt. They may have been responsible for the demise of the last barn cat, several years ago.
The bird population just exploded. I think having no cat has been a major contributing factor. Now the squirrels and chipmunks have only the dog to outwit and outclimb.
I have never become a wildlife "purist"; I still enjoy my flowering perennials and the annual bed on top of the septic tank! I even like mowing the lawn, though there is far too much of it. Now approaching my seventieth year, I am looking forward to the new gardening season and to watching the critters that visit me here.
Next on the menu is a mixed grove of deciduous/coniferous trees and shrubs in the wet field between the house and the highway. It will serve the practical purpose of catching snow when the nor-easters fill the driveway with drifts, of buffering sound when traffic gets noisy and of providing safe shelter for critters large and small. Maybe it will even reduce the mosquitoes by sucking up excess summer rainwater.
Some sources that have been of help over the years include "Bringing Nature Home" by Douglas W. Tallamy and a Lorraine Johnson book on gardening with native plants. Also, MacPhail Woods Tree and Shrub Nursery, Orwell, P.E.I. and the P.E.I.'s Department of Environment, Energy and Forestry nursery stock and program to eliminate alien species.
All photos are by Janet Fraser except the Hawthorn photo which was taken by Sarah Coulber.
---
<!-\\Default - single specific -->