<!-\\Default - single specific -->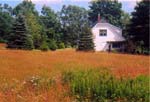 It's your holiday… your chance to get away from it all — the noise, stress, rushing around. You arrive at your destination — a quaint seaside village in Nova Scotia. The house is charming, the scenery is gorgeous… and to your delight, the garden is a natural oasis with a pond, woodland, meadow, orchard and gardens.

A feast for the senses, the four acres surrounding Broad Cove Getaway Cottage have been lovingly tended by co-owner, Phyllis Price. When she and her mother, Beatrice, bought the property ten years ago, over two acres was lawn. They left the natural areas intact and gradually converted the lawn to meadows and gardens that emphasized plants native to their region. "In a rural area that has seen an increasing amount of clearcutting and development, we like to think of our property as an oasis for wildlife, providing habitat for animals that, for one reason or another, may have been displaced from other settings."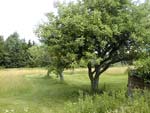 Phyllis is also very conscious of their human guests. The wild spaces in the garden and the paths throughout it create a sense of discovery and serenity. Guests have enjoyed the magical experience of glimpsing baby deer lying in the meadow and hearing the hoot of a barred owl from the trees above. They also share the natural bounty, encouraging guests to pick wild strawberries, raspberries, blueberries, foxberries and cranberries as a snack or to accompany their breakfast.

The cottage garden was certified by the Canadian Wildlife Federation because the required components for sustaining wildlife were met: shelter, water, food and space, incorporating native plants and maintaining the property in an earth-friendly manner.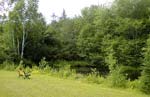 Shelter is abundant in the natural areas of the property with both deciduous and evergreen trees, shrubs, vines and perennials. The owners have supplemented this with a bat house, brush piles and a dead apple tree left standing for cavity nesters such as woodpeckers.

Water is available in the pond and Phyllis and Beatrice provide year-round food for their wild neighbours through the many plants they grow that provide nectar, pollen, seeds and fruit. Many of these plants are native to Nova Scotia, which is even more helpful as they are specialized in nourishing local wildlife. They also make it easier for gardeners, as, when planted in their suitable habitat — sun or shade, moist or dry soils — they are better able to thrive in the local climate and fend off insect pests.
In addition to keeping the house environmentally friendly for those with allergies, the owners keep the gardens with an equally mindful attitude. They choose to use minimal water and have a rain barrel to maximize their supply. Phyllis composts her organic material — kitchen and yard wastes — and mulches the garden with leaves and seaweed. There is less lawn to mow and the blades of the lawn mower are kept high to benefit the health of the grass and increase its resistance to drought and pests. Their holistic gardening practices foster healthy plants, allowing them to avoid the use of pesticides. This is appreciated by guests as "parents don't need to worry about chemical sprays." Together, these methods benefit the air, water and soil that we all depend upon. It also saves both time and money.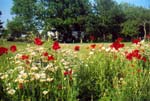 The benefits of the Price's dedication are obvious — personal satisfaction in the beauty of their garden, enjoyment of the beautiful songs, colours and antics of the many birds and other animals that frequent their property, and the testimonies of their paying guests. "It's very clear from their comments," says Phyllis, "both in person and in the guest book, that they appreciate the 'retreat' aspect of having such a natural environment to spend time in. Kids in particular love it." Anyone can create their own natural haven to escape the daily stresses of life and replenish one's spirit, whether you live in Canada and whatever size garden you tend, be it a balcony or an acreage. Find out about our Backyard Habitat Certification program, which recognizes efforts like those of Phyllis and Beatrice Price to provide habitat for wildlife. To learn more about the Broad Cove Getaway Cottage and read personal testimonials, please contact us at broadcovegetawaycottage@eastlink.ca,
<!-\\Default - single specific -->