<!-\\Default - single specific -->
By Elaine Wiersma
The transformation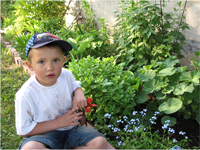 My love of gardening started in my childhood days helping my mom plant our vegetable garden, seeing her flower gardens, and working on my uncle's fruit & vegetable farm. It wasn't until I had land to play with myself, though, that I began to seriously garden with the help of my husband Harvey (who provides the muscle) and my son Gabriel.
The desire for a wildlife-friendly type of garden evolved from many influences, including Lorraine Johnston's book The New Ontario Naturalized Garden. As I read more, I became more interested. It seemed silly to plant things that required so much time and attention when a walk through the field or forest yielded beautiful species that grew on their own.
When we bought our house in 2006, there were very few gardens and plants. We removed most of the patio stones and began to amend the soil to plant gardens. Our native plants are all carefully chosen, including trees like cedar, pine, and tamarack; the vine Virginia creeper; ferns; big and little bluestem grasses; switch grass; and many flowering perennials such as liatris, swamp milkweed, wild columbine, goldenrod, bluebells, rudbeckia, and Solomon's seal. This year we added nodding onion, wild ginger, hyssop, and culver's root. Next year we plan to make an endangered species/prairie garden with ironweed, cup plant, compass plant, culver's root, and blue vervain, to name a few. And this year Gabriel started his own garden with coneflower, bee balm, pansies, poppies, and perennial geraniums.
To supplement this natural shelter we added brush and rock piles, logs and nesting boxes. We also compost and have three rain barrels, and don't use pesticides.
With our combination of ideas, enthusiasm and muscle power, we make a great team. Five years and eight gardens later, we are still not done.
Results
Now, I can't seem to go hiking or walking anywhere without being fascinated by the flowers and vegetation and wondering if they would grow in my gardens. It makes me notice things that I often took for granted. We are indeed a funny family when we go out hiking — with all of us looking at plants, birds, and insects. We don't get very far in a hurry!
When we are at home in the summer, we spend most of our time outdoors enjoying the hummingbirds that visit our bee balm, the goldfinches that fly around our yard, the bumblebees and paper wasps buzzing around our Liatris, the monarch caterpillars that feast on our milkweed, and the daily transformations that occur in the gardens. We spend time exploring and looking for different kinds of insects. We have found spiny soldier beetles (unfortunately eating our monarch caterpillars), two-spotted lady beetles (which were reported to the Lost Ladybug Project) and 7-spotted lady beetles, green and brown lacewings (both the larvae and adults) which help to control aphids, stinkbugs, flower flies, and all kinds of other insects.
Problems and Solutions
One of my frustrations is wishing that I knew more about the insects that are in my gardens but I am learning. The more I read, the more fascinating I find them.
Another frustration is dealing with deer and groundhogs. Although we love nature, both of these creatures are quite destructive to our gardens. We now spray our gardens with a natural product (Plantskydd) that keeps the deer away. We are still looking for a solution to stop the groundhog from eating our vegetable garden. [Editor's Note: Some people have had success with placing dog fur or sweaty clothes in problem areas]
Last Thoughts
It is so rewarding to know that we are able to create a haven for wildlife and exciting to find new species of birds, butterflies, or insects in our yard. It is also amazing to see my son at five years old know and identify different flowers and insects, and know about the importance of planting native species and not invasive species (regardless of how beautiful they are). And it's rewarding to hear friends comment on how restful our backyard is, and become more interested in native plants and insects.
Click here to find out how to make your garden wildlife-friendly and/or certify your garden.
<!-\\Default - single specific -->