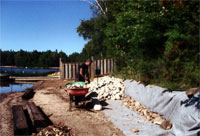 <!-\\Default - single specific -->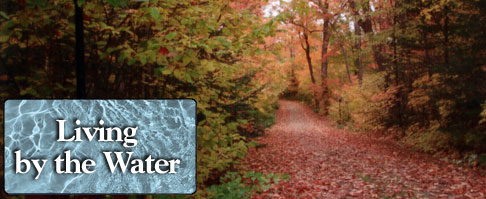 Text by Sarah Coulber
Photos by Chris and Barbara Woodfield

The beauty and tranquilllity of living along water is something that appeals to many of us. What not all people consider, however, is the responsibility of living in harmony with that water, in addition to the land. Human activities create runoff that makes its way to the lake or river that is home to countless interesting and beneficial creatures. It may also be home to other humans who prefer to enjoy clean water for swimming, fishing and wildlife watching.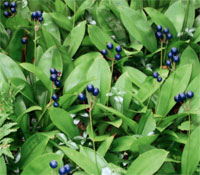 Native blue bead lilies offer visual interest as well as wildlife benefit.
Barbara Woodfield and her husband Chris live on a small lake near Algonquin Park Ontario, with perhaps 70 residents who live there year-round and up to 300 or more visitors during the summer. While much of the surrounding land was converted to lawn, the Woodfields took the approach of finding a balance with the nature around them.
Two-thirds of their waterfront is natural with shoreline plants, but the other third, an especially steep slope, had railway ties to keep the land from eroding. As they wanted a more natural look, they tried something they heard about at a talk given at Canada Blooms, a large garden show in Toronto. The ties came out and in went four to eight inches of river washed stones. Free of creosote, the stones are also strong in withstanding the potentially damaging winds and ice of winter. And, after a while, plants began growing in the crevices. Little fish enjoy the rocks when the water is high, finding shelter and food there. It looks and behaves far more natural than the previous railway ties ever did.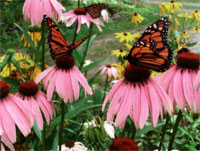 Monarch feasting on echinacea.
Further out from their property are planks of wood that are anchored just off shore. This has been a huge hit with the ducks, just as Barbara and Chris had hoped. Now they get to enjoy their antics and feel the satisfaction of providing a safe haven for them at night.
The rest of their property is tended free of chemicals and the only fertilizer they use is their own compost and compost tea (made from soaking compost in water). While there are some frustrating moments with local wildlife, they recognize that they chose to live in the country and this is what the country is about! One problem they kept facing was the digging of chipmunks in freshly tended soil. So, Chris made a frame for their tender seedlings which successfully keeps the chipmunks at bay until the plants are old enough and the soil looks settled.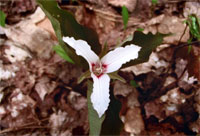 They also decided to go with the flow as far as gardening is concerned. Soon after moving there, they realized that the plants that were already there thrive better than those they grew in Toronto. They asked themselves, "What grows here?" and now, while they grow some non-native favourites, they mainly encourage natives such as bunchberry, blue bead lilies, winterberries, ferns and other beautiful and beneficial plants. These in turn keep the birds and butterflies coming to visit for shelter, nectar, fruit and seeds.
In their woods, they leave debris such as fallen logs for insect-eating salamanders and brush piles for other critters. Their trail is maintained with loving care, as Barbara transplants, rather than cuts down, anything that grows up along it. And, while they no longer hear the glorious song of the spring peeper down neighbouring roads, they at least get to enjoy them in their woods.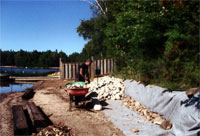 Chris laying stones after the ties came out.
They do their best to find a balance between their needs and their wild neighbours. At the end of the day, they are "getting a lot of pleasure out of it," Barbara comments. Her enthusiasm and humour is evident in her voice as she recounts her delight in watching the ducks and other visitors. Barbara and Chris also feel a satisfaction in knowing that they are helping rather than harming the beautiful land and water around them.
The Woodfields' two acre property is certified under CWF's Backyard Habitat Certification Program. Learn more about certifying your garden.
Get more information on our Canadian shoreline package of poster and field guide.
<!-\\Default - single specific -->