<!-\\Default - single specific -->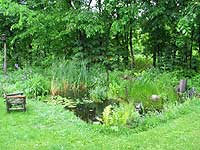 Just under a half hectare of suburban property in Carignan, Quebec, has been transformed into a natural wildlife sanctuary thanks to Chris Adam, his wife Danielle, and their two boys, 12-year-old Stewart and 10-year-old Wilson.

When the family purchased the property in 1987, it boasted a heavily pesticide-treated lawn, an above-ground pool, and few trees. For the past 15 years, the Adam family has been slowly restoring the land to its natural state. It has become a family project.

Today the Adam's once empty, sterile backyard is home to flower and vegetable gardens, a wet meadow, a pond, and more than 300 trees and shrubs. These features brought wildlife back in droves. The flower gardens and fields attract insects, leopard frogs, and toads. The evergreens provide year-round shelter for birds and small mammals and a windbreak for the gardens. The pond attracts a host of insects and frogs, which, in turn, attract even more birds and insects. "The pond contains every aquatic species native to Quebec — except one," explains Chris.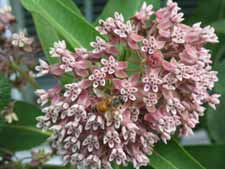 "It was absolutely from day one a priority to bring wildlife to the backyard," says Adam. "Today we have visits from too many species to list. Foxes, deer, rabbits, moles, even coyotes. Pretty much you name it and we got it."

The Adams made a real effort to grow native species — 80 per cent of the property is covered in native vegetation. Native plants are those that grew naturally in a particular region prior to European contact. Because they evolved here naturally, native plants are generally easier to grow and more resilient. They do the best job of providing food and shelter for wildlife.

Fruit bearing shrubs and vines, like dogwood, cranberry, and Virginia creeper, provide nesting sites in the spring and food in late summer. The Adams note that seven species of birds nested on the property this past year — cardinal, grackle, house wren, catbird, song sparrow, tree swallow and great crested flycatcher.

"I consider myself a naturalist first and foremost," says Adam. "I try to introduce nature to people. The property is an extension of what I believe in, it reflects who I am. And it's important to me to pass that on."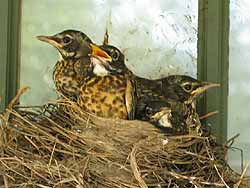 Neighbours sometimes have questions for the Adam family; such as why do you have a dead tree in your yard? Or, why would anyone want to attract bees to their backyard? Chris loves this; it presents him with a great opportunity to educate and to explain that there is a method to his madness.

Chris can easily list the benefits of his backyard habitat, but he's stumped when asked about the problems he's encountered. When pushed, he mentions that his vegetable garden had become an all-you-can-eat buffet for wildlife, but some simple fencing put an end to that. He finds domestic animals are a bigger problem than wild ones.

For someone wanting to start a backyard habitat project, Chris suggests just letting things grow. Nature can take care of itself. By doing this, you will see what your space would look like if left to its own devices.

"I think we tend to consider it a special project, but really it's not special at all. Uncut grass and snags are normal. If everyone gave just 10 per cent of their yard back to nature, there would be so many benefits and we would have so much more habitat for wildlife," says Chris.
<!-\\Default - single specific -->