<!-\\Default - single specific -->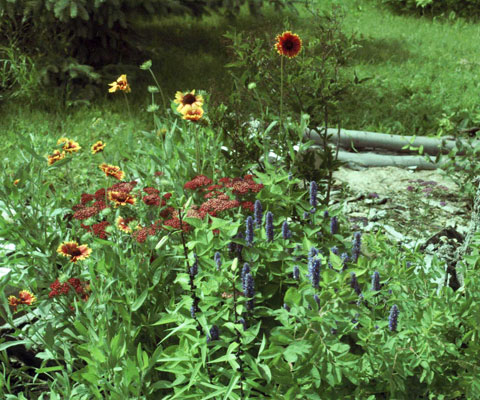 Photographed by: Carla Barkman
By Sarah Coulber
Janice Weidman bought her Winnipeg, Manitoba, property back in 1979 and has lovingly tended this small urban lot ever since. And while she only has 650 square metres to play with, Janice has nevertheless packed it with a host of plants that benefit both her and the remarkable variety of wild animals that visit – in a manner that benefits us all.
Janice attributes her interest in naturalistic gardening to her parents. She explains, "My Mom was a huge influence in my love of gardening and nature. I grew up on a farm in Starbuck, Manitoba, and watched her grow a garden to feed us, pesticide-free. In the fall she would throw all the leftover organic matter in a pile at the end of the garden, and Dad would work it back in. It was not called composting in those days!"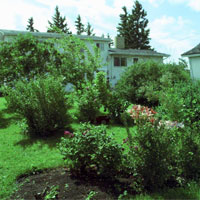 Her parents also fostered an interest in nature, leading her to join the Manitoba Naturalists Society for a while. "Through them I learned about native plants and gardening for wildlife. I began reading books on growing native plants, and started buying plants from Prairie Habitats, a local supplier of native plants, owned by John Morgan."
Today, Janice's mantra is "Earth Day Every Day," which translates into many of her choices, including those in the garden. She refrains from using pesticides and never waters her lawn. She even manages to avoid watering her vegetable garden most of the growing season. Janice composts and leaves her grass clippings on the lawn to return nutrients to the soil, thereby nourishing the grass.
Her selection of plants further reflects her desire to make a difference in this world; she grows many plants native to her region. These include trees and shrubs such as tamarack (Larix laricina), nannyberry (Viburnum lentago), buffaloberry (Shepherdia argentea), common snowberry (Symphoricarpos albus), white spruce (Picea glauca) and grey and red osier dogwoods (Cornus racemosa and C. stolonifera). Some native perennials are Joe pye weed (Eutrochium purpureum, formerly called Eupatorium purpureum), common blanketflower (Gaillardia aristata), blue giant hyssop (Agastache foeniculum) and big bluestem grass (Andropogon gerardii).
Together, these plants create habitat with a natural source of food and shelter, with space to nest and rest. In fact, one of Janice's favourite native shrubs, the grey dogwood "had beautiful white flowers with the resulting white berries gobbled up by the hermit thrushes and robins this fall. The blue berries of the nannyberry were eaten up by the same birds. The buffaloberry sheltered warblers on their spring trip through the yard, and the juncos are now eating bugs they find in its branches." The flowers on these plants also feed beneficial insects such as pollinating bees and butterflies.
Other favourites include swamp milkweed (Asclepias incarnata) with its "heavenly scent – I saw my first monarch butterfly hatch this year because of eggs laid on it; giant hyssop – blooms all summer and bees love it – and purple prairie clover – bees love it, and it is very pretty with an interesting shape."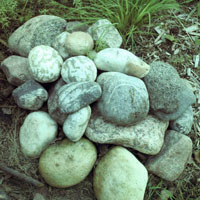 Janice's wild encounters include mammals, too, such as the time she got the chance to see one of Canada's elusive wild cats. "A few years ago," Janice recounts, "I happened to look out my kitchen window one day in spring. I couldn't believe my eyes. There was a bobcat in my garden, lapping up water from an old tire I had sitting around a plant. When he looked up and noticed me watching him, off he ran. What a thrill. I live in a city!".
Another mammal, sometimes considered a nuisance, brought delight to Janice. As she explains, "This summer I was yet again looking out my kitchen window and saw a small face by the garden shed. 'Is that a beaver?' I wondered. He waddled out, and it was a woodchuck. He leisurely ate grass and my Tall Coneflowers, and stayed around for three days, then was gone.".

Her tolerance for some munching helps keep everything in perspective, as most of her garden is left alone. She even goes out of her way to help some creatures, growing heart leaf Alexanders (Zizia aptera) to attract swallowtails to lay their eggs. In Janice's garden, there are many other butterflies to enjoy, such as monarchs, fritillaries and painted ladies, as well as wood frogs, mosquito-eating dragonflies, wrens, warblers, waxwings and many native bees.
Janice, like any other gardener, encounters her fair share of challenges. For instance, "cottontail rabbits love to feast on the shrubs in winter. So, I place a circle of chicken wire four feet [just over a metre] high, held in place with rebar. This keeps them from chewing at the base, even though they can get at the tip when the snow is high. Then the shrub can get established and has a chance to spread."

Another challenge Janice faced was cutting down a tall tree that was growing under some hydro wires. "I left the stump standing, laid newspapers around it covered with grass clippings and let this break down to kill the grass. Worked it all in to the soil and planted a few native shrubs and flowers. Now I have what I call my 'stump bed,' which grows interesting fungi on the stump as well as what I planted around it – a very fun project."
Janice has also learned to "pay close attention to the light requirements for native plants. My patch of native wildflowers and grasses in front of the house is getting more shade as the trees get bigger. I have tried a fair number of different species over the years, and only the few that will tolerate part shade are surviving." She advises gardeners to "stick with what works, but experimenting is half the fun!".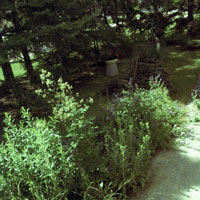 Janice is continually inspired to live in harmony with nature, recently by her son Paul, who is working on his PhD in biological sciences and researching the effects of climate change on freshwater lakes. "I have been hearing a lot about our changing earth from him over the years! It is scary to hear about disappearing habitat, disappearing species.".

But Janice finds pleasure in knowing she is doing all she can for her planet in the space she calls home, and she has even inspired her daughter to follow suit on her own property.
Janice's garden is certified with the Canadian Wildlife Federation's Certification program. For more information on this and other programs, visit the Backyard Certification Program.
<!-\\Default - single specific -->