<!-\\Default - single specific -->

Creating beautiful and beneficial gardens is not just restricted to the homeowner. Any open grassy or gravelly space is bursting with potential to be greened up and delighted in.

The Region of Peel's Public Works team did just that when they transformed the space outside their Community Recycling Centre into a teaching garden. Situated in an industrial area of Brampton, Ont., the CRC handles the community's recycling material and household hazardous waste. It is also home to a goodwill donation area and reuse store. "Staff had been looking for a busy site frequented by the public to showcase regional programs," explains Lesley Radman, a water efficiency analyst with Water Smart Peel, an education and awareness campaign that encourages Peel residents to use water responsibly.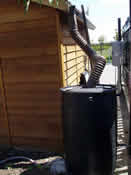 Their teaching garden is pesticide free, uses compost as a soil amender and fertilizer and needs minimal water — some beds only get rain water. The staff leaves clippings on the lawn to nourish it and mulch the garden beds with organic material which, in addition to nourishing the soil, helps it retain water and prevents soil erosion from wind and rain. The gardens also host many native plants that attract wildlife, including beneficial insects.

These grounds clearly demonstrate to the public that you can have beautiful gardens and be environmentally aware. In addition to the garden beds, composter and rain-barrel demonstration sites show visitors just how easy and rewarding it can be to have these tools at home. Composters, compost and rain barrels can all be purchased at the CRC.
Creating the gardens — originally a job for professional landscapers — was a memorable experience for the staff. Budget constraints and little time before the grand opening of the new CRC in 2002 meant that they had to design, build and plant a huge area of gardens in two weeks!

They rose to the challenge and, once the designs were approved, rolled up their sleeves, dug into their "homemade" compost and planted with seedlings from both nurseries and their own gardens, finishing just in time for the opening ceremony.

Within a year the garden was flourishing. It is now a home for toads, birds, butterflies, bees and other beneficial insects as well as a few mice and squirrels. Radman points out that "the most gratifying visitors were the large number of bees and butterflies — a great accomplishment as the site and surrounding area is industrial."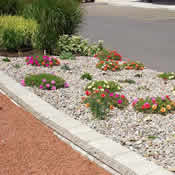 There are currently ten theme gardens. The scree garden grows plants that are found in rocky conditions is therefore water efficient. There are herb, vegetable and ornamental-grass gardens, as well as a pumpkin patch. A drought-tolerant garden is home to plants such as evening primrose (Oenothera tetragona), goldenrods (Solidago spp.) and coneflowers (Echinacea spp.). The butterfly garden has plants for both butterflies and their caterpillars including species native to southern Ontario, such as bee balm (Monarda didyma), butterfly weed (Asclepias tuberose), iron weed (Vernonia novaboracensis), New England aster (Aster novae-angliae), turtlehead (Chelone glabra), and yarrow (Achillea millefolium), as well as some non-natives including hollyhocks and butterfly bush.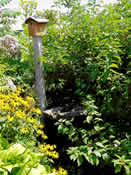 The woodland (shade) garden has plants that are native to Ontario forests; it's both water wise and a provider of ample habitat for many birds, butterflies, insects and more. The bird garden "provides a natural food source of berries and seeds, as well as a nesting environment for local fowl," says Radman. And schools are involved each year in a competition to design and plant the children's garden. Submissions must show "how the garden will be water wise and attract animals and list the types of plants they will use."

There were only a few problems encountered that were soon dealt with. Some plants died during the first winter because salt-laden snow from the driveway and walkways was piled onto the beds. The next winter salty snow was placed elsewhere. Another potential problem was the heavy clay in the garden soil, but that was amended with compost. There was also the hurdle of having to plant everything quickly during a hot spell and in full sun, when they would have preferred cooler weather and cloudy days to help the plants adapt to the new site with minimal stress. Their remedy was applying mulch and lots of water to help the plants until their roots established.

All their plants provide shelter for wildlife. They also provide food in the form of nectar, pollen, fruit/seeds, greens and attract insects — an important food source for many animals including hummingbirds. The group also erected bird houses and a bat house, created a rock pile, placed logs on the ground and provided bird baths as a source of water to supplement the habitat that the plants offer.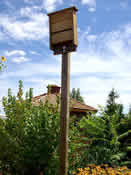 Various programs have taken place in the teaching garden, such as lawn and garden workshops, which have been very popular, and a Garden Extravaganza that involved other environmental and gardening groups and raised money for the United Way. There is also a map and interpretive signs for self-guided tours. In addition, Peel Public Works responded to the Composting Council of Canada's garden challenge by growing giant pumpkins to demonstrate how beneficial compost is to the soil and the plants that grow in it.

These folks are making a difference in their community, both in the quality of lives of residents as well as the wildlife and plants that support them ... and the gardens are a big success in the community. As Radman points out, "never have we had a negative comment from the visiting public or dignitaries. People always see the garden as a positive thing and congratulate our efforts in promoting environmentally sound gardening practices through our regional programs."

"Wherever you live and whatever size garden you tend, click here to find out about our Backyard Habitat Certification program which recognizes efforts, such as the folks at the Region of Peel, that provide food, water, shelter and space for wildlife."

For more information on water efficiency in your home and garden, visit WaterSmart Peel.
<!-\\Default - single specific -->