<!-\\Default - single specific -->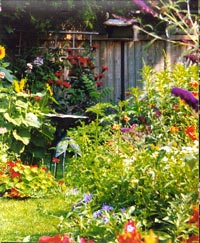 If you think that owning a small urban lot limits your ability to have a gorgeous garden, think again. And it doesn't have to take many years and lots of toil to create the garden of your dreams either.

A visit to Beth's garden in Toronto reveals lush greenery, vibrant blooms and myriad wild visitors that both enjoy her garden and add to its beauty. Remarkably, this 76-year-old gardener transformed a barren lawn into an inviting oasis in only two years.

"I always had a garden," recounts Beth, who actually has had more than a few gardens over the years. "You just adapt to what you have." And Beth has learned many tricks along the way that have made planning her garden as much fun as creating it.

After moving to her current house in September 2004, Beth quickly jumped into gardening by creating two centre beds, which were later extended to curve around one another.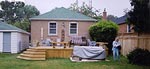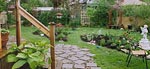 Beth used a simple garden hose to help her decide on the right shape for the beds. She laid the hose on the ground and curved it to make the shape of beds she wanted.


Next, instead of digging up the beds, she placed a layer of cardboard on the ground to smother the grass and weeds. Then she added about half a metre (1.5 to 2 feet) of soil on top of the cardboard. This saved many hours and much hard work, much to the delight of Beth and her hardworking crew (son Christopher and daughter Deborah).

Although the perimeter of Beth's yard is fenced on three sides, the edges get trampled by her two friendly dogs as they rush to greet her neighbours. For these well-trodden areas, Beth chose shrubs rather than more delicate perennials. Potted plants were added as accents among the shrubs and fencing.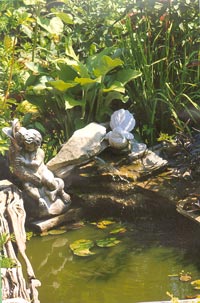 A pond — with fish — was installed, much to the delight of local raccoons. The raccoons' fishing trips have been curtailed though, thanks to some wire netting placed over the water. In an effort to restore a more natural look to the pond, Beth plans to replace the netting with cement blocks. Beth says the blocks will give the fish some good hiding places, which should ensure their safety.

Beth's neighbours are delighted with the garden and they offer her many words of praise. Beth has also attracted the attention of local wildlife. Some have taken up residence while others stop by for rest, food and shelter on their long migratory journeys. Nectar- and pollen-rich spring blooms, like pussy willow and Virginia bluebells, offer food to bees, butterflies and hummingbirds. These plant pollinators are essential for vegetable and fruit production, so when we help them we are also helping ourselves.

Flowers, such as Joe-pye weed, bee balm, coneflowers, sunflowers and goldenrod, extend the floral display into the fall. These plants also help many wildlife species to build up fat reserves for their long trek south or their winter sleep. Many of Beth's plants produce nourishing seeds, nuts and fruit for birds, which include orioles, finches, fox sparrows and flickers.

Beth refrains from using herbicides or insecticides to ensure a healthy food supply of spiders and insects for beautiful warblers, swallows and hummingbirds. She lets furry neighbours like rabbits, foxes and skunks enjoy her garden, too. And while there may be minimal damage, one look at her garden and all you notice is its dazzling beauty. Besides, the antics of baby animals are usually worth a grin, a chuckle or outright laughter.

Such a diversity of plants in a garden provides a diversity of shelter, too. Deciduous shrubs like hedge rose bushes, dogwoods and choke cherries provide summer shelter from hot weather and predators, and places to nest. Evergreen cedars offer that as well as protection from winter winds. Vines, such as bittersweet, roses, honeysuckle and clematis, make great use of space along the fences and add more habitat for animals.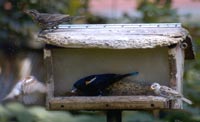 Bird feeders, nesting boxes and a wild area of tall grass are other features that Beth makes available to her wild visitors. The pond adds the final touch by providing water to thirsty visitors.

"The garden is an ongoing thing, with constant revision and change," says Beth. But while the face of her garden may change over time, her passion and creativity is a constant.

All these efforts — along with other environmental practices such as composting (through Toronto's municipal program), leaving grass clippings on her lawn, mulching and minimal watering — make Beth's garden a perfect candidate for certification through CWF's Backyard Habitat Certification program.

Click here if you would like to certify your garden or call 1-800-563-9453, x 275.
<!-\\Default - single specific -->