<!-\\Default - single specific -->

As urban sprawl continues all around, it is heartening to hear about homeowners returning some of their land to a natural state. Too many bare lawns mean fewer creatures to help maintain the health of our planet and bring smiles to our faces.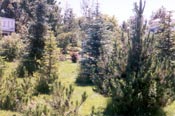 Robert and Hendrika Hamilton have spent the past nine years encouraging the birds and the bees in their corner of Canada. In a subdivision in DeWinton, Alta., where they are surrounded by cattle and lawns, the Hamiltons have let a lot of the native grasses grow back. They went even further by planting 1,500 trees and shrubs, plus native flowers, on their property, which is almost a hectare. They also built a pond and a 15-metre recirculating stream that meanders through the garden beckoning birds and other creatures to drink and bathe and play.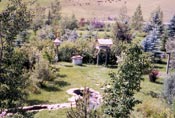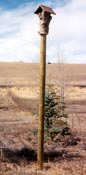 Their efforts have provided their local wildlife with the basics; namely, food, shelter, water and increased space. The food is taken care of through the hundreds of plantings which produce nectar, pollen and seeds or fruit as well as the odd leaf and twig for the hungry passerby. "Because of our area, we concentrate on drought tolerant and chinook-hardy plants and native species as much as possible," says Robert Hamilton. By not using pesticides, they further supplement the food supply by leaving the insect population intact for bug-eating allies to safely enjoy, such as birds, toads and bats.
The Hamiltons provide water for drinking and bathing with their ponds, mini-waterfall and stream. They have even made little dams in the stream to create bathing pools. It has "been a tremendous asset," says Hamilton. "Our yard birds are constantly using the stream to bathe and drink. We have seen skunks using it and a salamander made his summer home in the lower pond." They supplement these pools with birdbaths elsewhere on the property.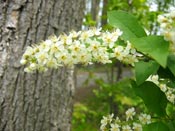 Although their many plants, big and small, provide shelter from the elements and predators, the Hamiltons created other shelters for refuge, resting or nesting, in the form of brush piles (a popular area for the birds), rock piles, wild areas of grass and standing dead trees (snags). Robert even made several open and closed nesting boxes for bird species such as hairy woodpeckers, northern flickers, robins and more.

They conserve water by using a rain barrel and refrain from watering their lawn. Their efforts have yielded many benefits, including being able to observe all sorts of local wildlife up close, such as coyotes, hawks, shrews, songbirds and more. "It is a project we truly enjoy," says Hamilton … and I don't doubt him for a second!
<!-\\Default - single specific -->