<!-\\Default - single specific -->
By Sarah Coulber

Many Canadians are recognizing the connection between our well being, the land we live on and the wild neighbours we share it with. This awareness is prompting more and more people to garden in an environmentally friendly way and to use native plants. Others undertake a larger-scale approach by restoring huge tracts of land to their natural state and creating habitat for the many important and fascinating creatures that depend upon it. One such property, recently certified with CWF, surrounds a thriving international business.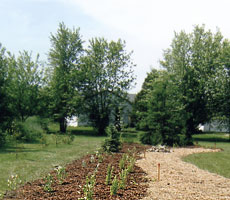 Copernicus Educational was started in 1989 by George Phillips when he took early retirement from teaching to create tools for educators. What started as a venture with his son Jim in his basement evolved to a large successful company that is now based in a building on the same property.

Situated on a mixed farm in North Wellington County in southern Ontario, 38 of the 40 hectares have gradually undergone various forms of naturalization. Some parts have been reforested, with the first trees planted in 1991 primarily as a windbreak. George and Jim could see the environmental benefits of their efforts and decided to expand their planting. A total of over 50,000 trees now stand thanks to them. Other areas were transformed into a meadow, and the nearby wetland was left as is.

Although George passed away some years ago, Jim has maintained and enhanced the company. And in his desire for the business to succeed, he hasn't lost his desire to care for the land in an equally responsible and creative manner.

Jim's most recent project has been to naturalize some of the remaining lawn into a "shrubland meadow." Bordered on one side by tamaracks – deciduous trees that were planted by George almost 20 years ago – the goals of the new garden were to "reduce the lawn and therefore minimize maintenance costs, provide habitat for wildlife and introduce a greater diversity of shrub species into the area."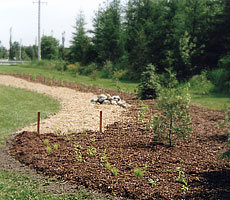 Native shrubs planted include nannyberry (Viburnum lentago), elderberry (Sambucus Canadensis) and red osier dogwood (Cornus stolonifera), and perennials such as wild bergamot (Monarda fistulosa), spotted Joe-Pye weed (Eupatoriam maculatum), butterfly weed (Asclepias tuberose), aster and goldenrod. Together, they ensure a supply of pollen and nectar from the spring through to the fall, providing food for bees, butterflies and other helpful insects that we rely on for pollinating neighbouring farm crops, vegetable gardens and wild areas. The fruit and seeds that later develop support a variety of birds and other animals from late summer through the winter.

Another important element to wildlife is water, which is available in the nearby wetland. While some people fill in wet areas for development or other forms of habitat, the wetland at Copernicus has remained and adds to the diversity of both plant and animal life on the property.

In addition, Jim and his staff ensure the property is maintained in an environmentally friendly way. No chemical pesticides are used and grass clippings are left on the lawn to return nutrients to the earth for the grass roots. The staff at Copernicus never waters the lawn, and, according to Jim, it does just fine.
But Jim's appreciation for nature extends past his own property, with products that are reusable, packaging that is mainly recyclable and with a significant reduction of the amount of garbage they produce. Last year Copernicus donated over 350 saplings to local school children. This year they are getting ready to donate over 1,000 saplings. The students will then take the young trees home and plant them as an Earth Day activity. It's a gift that will keep on giving, and hopefully, keep on inspiring people to live and care as Jim and his father have done.

If you wish to certify your property, please click here for more information.
<!-\\Default - single specific -->