<!-\\Default - single specific -->


When I was a child "gardening" meant hard work and I hated it. It meant hours helping with the planting, weeding, harvesting, and cleaning up my mother's large vegetable garden. What I really enjoyed was collecting bouquets of wildflowers and cattails, walking bare feet on the moss, drinking from a source of fresh water, eating wild berries, gathering wintergreen leaves to make "tea," and picking blueberries to make pies; like most children I loved exploring, discovering, and observing.

For many years I steered clear of gardening, but a few perennials and some encouragement kindly given to me by a neighbour enticed me back. Gradually my small perennial patch in my backyard grew, as did my interest in reproducing the elegant and "arranged" look I saw in gardening books, although I never sprayed my garden with pesticides and never cared much for huge manicured lawns.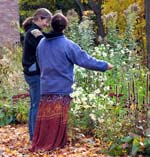 It was after reading "The New Ontario Naturalized Garden" by Lorraine Johnson three years ago, that my perspective changed. When I stepped outside afterwards, I saw, not a garden, but land that was there not only for my enjoyment but also to sustain the many forms of life that were all around and I was inspired to transform this elegant wasteland into something more.

The realization that I could align my love of gardening with a wider and more generous purpose gave me joy, and the possibility that I could recreate in my backyard some of the wild spaces I enjoyed as a child was very exciting.

I read "Noah's Garden" by Sara Stein and kept my wildflower field guide close at hand. I joined the Native Plant Forum where I found a group of people dedicated to the preservation and dissemination of plants native to their respective areas. It was interesting to discover that within this perspective coexisted diverse approaches and points of view. I checked out lists of plants native to Ontario and lists of aggressive introduced species.

I read "Fatal Harvest," where I learned about alternative ways of farming. I wrote a quote from this book in my gardening journal, "We should farm like the forest, for nature is the supreme farmer." I read about the benefits of no-till agriculture and was shocked that I had never heard of this before. Being a farmer's daughter, I could not imagine agriculture without the plow. I began to think of myself not so much as a gardener but as a "steward of the land."

I decided that a good starting point would be to work towards getting my yard certified through the Canadian Wildlife Federation's Backyard Habitat program as a way of maintaining my focus and applying this new-found knowledge.

Slowly working on this project over the past three years led me to seriously consider some basic facts that I still need reminding of. Here are some of things that I have learned "the hard way":

The land possesses its own intelligence and one needs to spend time observing carefully and working with it. Leaving areas of the yard "unmanaged" is a really nice way to understand how nature works and to attract butterflies, caterpillars, and birds.

I inherited a wonderful property with a split personality: the visible part (about half of the yard) was manicured and regularly treated with various products to kill bugs and keep the large lawn areas free of weeds. Some hidden parts on the other hand (a wooded ravine and a small rocky, woodsy area hidden by a hedge) had not received much attention for some time.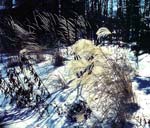 Upon my arrival on this land 12 years ago, I proceeded to wean the lawn and flowerbeds of chemicals. Very soon, the "illusion of health" that had been created by a display of lush greenery quickly crumbled as the chemical-dependent vines got eaten to shreds, the roses almost perished under aphid attacks and the vast lawn sprouted dandelions. It took at least two years for the land to regain some of its natural balance, but it did, filled with healthy perennials, vines, trees, and bushes, and the place is alive with beneficial insects. The occasional chewed leaf is no longer an issue.

A few years later, I decided to get rid of the lawn under the maple trees in the front yard in order to create a woodland garden such as I had seen in gardening books. My son helped me by adding garden soil, and installing paths and low retaining walls made up of tree trunks and stones. I planted the usual shade plants including several kinds of hostas, astilbes, and ferns under the trees and some sunny plants at the wood's edge. Neighbours stopped to admire the new garden and complimented me on my efforts and success. It was very pretty but I spent the following summers applying water and compost to keep most of the plants alive and looking half-decent. People recommended I get a sprinkler system installed. I considered it but something seemed wrong with this picture.

I was working against the land and was feeling tired. In a way, I had recreated a version of my mother's garden where I experienced "all work and no play." But my mother's garden had a purpose, which was to feed the family wonderful fresh vegetables all summer long. What was the point of a picture-perfect woodland garden that needed watering every day?

It took me a while to accept that the land in my area is dry and thinly spread over bedrock and that any available water in the front yard is quickly sucked up by the thirsty sugar maples. The exotic shade plants I was trying to grow needed lots of water and a rich soil free of roots.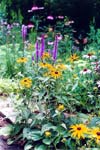 The new perspective invited me to stand back and observe what was happening and what grew naturally here and in similar environments. It invited me to take my cue from the land instead of imposing my wishes on it. "To farm like the forest" I let the leaves fall and decay on the forest floor instead of raking them up. I had noticed the white trilliums coming up in a forgotten rocky corner of the woodland in the spring but I hadn't noticed other more humble plants. When I started to listen and observe, I identified wild oat pushing up through the dead leaf cover, loved by bumblebees in the early spring. I saw the small trout lily and hepatica. These beautiful plants did not mind the dry soil and the omnipresent tree roots.

I never bothered watering it as none of my precious plants were there. Yet, this was the most appealing part of the woodland in the spring. In the fall, the wood aster covered that forgotten area in such a way that it looked like a purple haze and was alive with bees.

Although I have few wild grassy areas, I have reserved small areas of the land for this purpose and they seem to be favorite spots for some butterfly caterpillars. I keep an eye on introduced species, such as thistles and daisies that flourish in these areas. I don't mind stinging nettle too much: it is cheaper to dry the nettle to make a fortifying herb tea than to buy it at the store. Just make sure to wear thick gloves.

As I was finally able to look and listen, the land pointed the way and a totally unexpected plant list came to mind. But how do I invite these plants to the tamed cultivated areas of the land?

Growing plants that are native to my area can help restore health and balance to the land and provide support to all kinds of wildlife.

I learned that most native plants seem very elusive, even rare. Most were nowhere to be found in the nurseries I used to frequent, nor were they found by the highway or in my neighbourhood's parks. It seemed very paradoxical that these so called wild and native plants were not really growing anywhere except in fairly remote areas.

Noticing their rarity in and around the city, I became determined to support the growth of native plants in my yard. I decided to try the "no till" paradigm by refraining from cultivating and disturbing the land in the established areas. I did not mulch and did not deadhead so as to encourage self-sowing. I did not mix compost into the soil but allowed organic matter (pulled out weeds, twigs, dead stems, etc.) to remain where it fell and to nourish the soil between the plants. With the help of my field guide, I closely studied new growth and identified it early on, nurturing the native plants that volunteered in my garden to keep aggressive species' expansion in check.

I received bloodroot seedlings from a friendly neighbour. I found several native plants at a local nursery, however some were quite expensive and the choice was limited. I also grew plants from seed and ordered many baby seedlings from a Toronto nursery that publishes "Ontario Native Plants Resource Guide."

*Editor's Note: To find a native plant supplier near you check our native plant suppliers' list.

Obtaining Ontario natives has been my main hurdle and can become pretty expensive if one tries to get good-sized plants. Purchasing seeds and spreading them in the fall is the cheapest way to disseminate these wonderful plants. Once established, native plants do not require much attention and they slowly increase on their own.

I was haunted by one of the few pictures in Johnson's book featuring one of my favorite wildflower: jewelweed. How do I bring jewelweed to my suburban lot? As it turns out, I just had to be patient, observant, and tolerant enough to allow things to happen. Jewelweed appeared last year and I was able to admire its bright orange flowers last August. One morning, as I was walking around, I saw a flash of the brightest blue: it was blue lobelia. Another wonderful surprise! Blue vervain, boneset, aster, evening primrose, goldenrod, milkweed, and others popped up here and there in sunny areas. I got better at early identification.

If I garden for wildlife I should expect that wildlife would enjoy my garden and nibble at its offerings: that's the whole point!

This is an obvious statement that most people will find very logical but, oddly, it was not easy for me to accept. The butterflies, the bumblebees, the dragonflies, and the birds are wonderful but how about the squirrels, the groundhogs, and the skunks?

I find that as plants multiply I don't notice a few missing flower heads as much. Also, growing clover in the lawn keep the rabbits and the groundhogs well-fed and happy. Last summer, plants that were once heavily munched on were mostly left alone.

As for the bugs, amazingly, none of the native plants and most of the tough exotics that grow on my land experienced serious insect problems. I have observed every year that one plant in the meadow becomes an orange aphids' magnet. It usually is a plant that would prefer a moister environment.

If this plant were to be the summer feature in a conventional border, aphid infestation would indeed be dramatic and would call for an equally dramatic response. However, in such a diverse environment as a meadow, it is hardly noticeable and the plant is weakened but never destroyed. The aphids provide a feast for ladybugs and other beneficial insects. All other plants are left alone.

The only serious insect problem is one I have had for many years with an orange beetle that I suspect is the Japanese beetle. Each year it devours my rustic Asian lily. Strangely enough, these bugs don't eat anything else. I keep them in check armed with a small stick and a can of soapy water in which they fall and drown.

Diversity increases the space.

I have observed that diversity increases space as it creates many different areas that one can walk to and discover. Space is also created visually. One can take in the whole backyard at a glance if it is all lawn, but it takes much observing to appreciate different kinds of spaces. Wildlife gain space from an increased surface area to inhabit, and children gain, too. It is obviously more difficult to play a soccer game in a diverse yard but one can still kick the ball around without worrying about delicate flowers being trampled by running feet or smashed by the ball. Once children grow tired of the game, they have a lot more space to play, make-believe, hide, and explore in a diverse backyard.

My yard has a long way to go before it can even come close to the stunning work of nature in the pristine areas where I like to spend time in the summer. However, after only three years of consistent effort at "going wild and native," I feel like I have reclaimed the land around my house as a living space and already so much is happening right at my doorstep.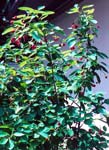 I love "walking the land" in the morning not with a weed digger and a bag as I used to do, but with a cup of tea. I have been known to leave empty cups in the most unexpected spots of the yard as I put it down to snatch a few serviceberries left over by the birds; venture through the bushes and under the pine tree bows to see if the winterberries are out; crush a fragrant sumac leaf between my fingers to enjoy the wonderful scent; sit down on a rock to admire a butterfly resting in the sun or a bird foraging among the leaves. I am not sure if this is only my imagination, but I swear that as I sit on the bench in the woodland, I actually hear munching going on in the dead leaves.

The new bushes on my property are still quite small. I have planted them fairly close together so they can form a kind of hedgerow or thicket once they are all grown so the birds and other small animals can travel and hide in those areas. Some have yummy berries (Amelanchier, Aronia, chokecherry, wintergreen, wild strawberry, wild cranberry bush, flowering raspberry); some have very delicate beautiful flowers (Aronia, Amelanchier, Viburnum, elderberry); some have stunning fall colour (Aronia, Viburnum); some have interesting scent (fragrant sumac, bayberry); and some have beautiful winter form and colour (dogwood).

There is not a dull moment on the land. New plants are coming up and I am all excited as it may be the native plant that I can't find anywhere; bumble bees are crawling up into the narrow, upside-down flowers of the wild oats in the spring; bees are swarming the asters in the fall; monarch caterpillars are eating away at the milkweed leaf and other plain, striped or fuzzy caterpillars are crawling on grasses and "weeds"; colourful butterflies are dancing above the small meadows.

I have been intrigued by how the pieces of tree bark I have put down to make a path are usually flipped over in the morning. Raccoons or other night prowlers are getting dinner from the underside of those bark pieces and probably keeping the number of earwigs down.

On one of my morning walks, I saw a gorgeous black admiral on a goat's beard flower along with bees of many sizes. I observed it for a long time and when I went back to check later in the afternoon, it was still there enjoying the sunshine in this sheltered area of the garden. Dragonflies, so luminous in the sunshine, perch on the grasses growing in the pond; there are all kinds of insects in iridescent green, red, and blue and with interesting shapes like the lovely stick insect; birds are coming to the feeder in the winter but they are also enjoying the bushes and wildflowers for the berries and the seeds in the summer and fall; they have places to hide and to build their nests; robins enjoy picking insects and worms among the dead leaves; and finches perch on the evening primrose pecking at the seeds. I am also enchanted by the red cardinal's song; chipmunks, squirrels, and rabbits are hiding in the tall grasses and collect seed heads and small bulbs in the fall.

The best part is that I don't work so hard anymore as I let nature do a large part of the gardening.

This kind of garden requires a lot less maintenance and very little watering but it is not all fun and games either. Leaves do fall in the forest but they also fall on the sun loving plants at the wood edges. I need to rake the leaves off a small strip along the driveway in the spring to give these low-growing plants a chance to come up. Modifying the existing landscaping to a more natural concept is hard work and will be tackled bit by bit.

With a natural garden, there is never pressure to do something immediately as nature takes care of itself in most cases and time resolves a lot of problems. Changes may have to be made, meadows have to be sown, aggressive introduced plants need to be restrained, but a lot happens naturally.

Some things I would do differently are to start with a natural garden right away instead of having to convert a conventional garden to a natural one, dig in a pond for the frogs and the birds instead of having a raised one as I do now, have more native grasses and less wildflowers in my meadow and I would grow them from seed instead of buying plants, have more native bushes with edible berries . . . and put in a vegetable patch.

Ultimately, my dream is to watch fireflies hovering over the tall grass as I sit out in the yard on hot summer nights and to welcome my future grandchildren to a varied and lively space where they can explore and play to their heart's content.
<!-\\Default - single specific -->