<!-\\Default - single specific -->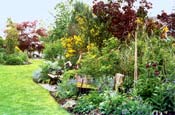 With their love of the outdoors and a deep respect for nature, Jane and Chris D'Silva have spent many years doing what they could to help wildlife. For 15 years they shared their knowledge of the natural world with the Girl Guides and Boy Scouts of Canada. They have also transformed their many homes into sanctuaries for local wildlife.

Nestled in the Fraser River Valley, their most recent home — which is also a bed and breakfast — welcomes both people and wildlife. Despite being situated on a busy corner in the suburbs, their lush gardens entice the human eye and provide much habitat for a myriad of critters, including red-legged frogs, raccoons, and more than 50 species of birds.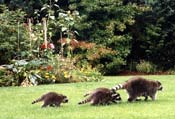 Jane and Chris have planted many native trees, shrubs, and perennials, recognizing their importance to wildlife and their benefit in being more adapted to regional conditions. They also maintain these plants and the lawn in an earth-friendly manner. They don't use chemical pesticides, use compost as fertilizer, leave grass clippings on the lawn to nourish the soil, and water the lawn less than once per week. While some folks believe gardening with native plants means a messy, weedy garden, the D'Silvas have blown this theory out of the water. Neighbours have likened their property to beautiful Butchart Gardens on Vancouver Island and passers-by often linger on the sidewalk, taking in the gorgeous view!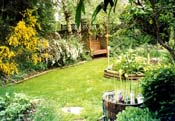 In addition to growing native plants, Chris and Jane have created habitat by erecting nesting boxes, leaving dead trees standing (unless they're a danger), and building small ponds and a rock pile. Overall, the property has seen dramatic changes since they bought it nine years ago, when it was mainly grass with a few trees.

The D'Silvas have proven that one doesn't necessarily need to be an experienced professional to have a stunning garden. They have learned much by trial and error, applying some gained wisdom in recent years and saving some for the next time around. Jane looks forward to having an out-of-the-water filter for ease in maintenance and will, in future, position the pond well away from deciduous trees. While they don't mind losing some fish to great blue herons and raccoons, Jane and Chris don't appreciate their koi getting eaten up, so a deeper pond will be in order next time.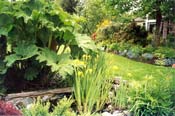 They also like to share their belief that everyone can provide the basics of wildlife habitat, especially water and shelter, with just a bit of knowledge. Nesting is important, as is its positioning — someplace with protection from predators and away from water features is best, in case young birds fall out of the nest before they can fly. Food is one habitat feature that many people already provide; but the D'Silvas caution that feeders need regular cleaning and careful positioning. They've learned that peanut butter is not the best food for birds — some brands include salt and sugar and oil trapped in difficult-to-clean breast feathers can be fatal.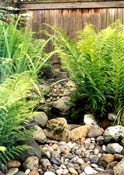 The D'Silva's have derived much pleasure in creating and nurturing their gardens as a family, as well as pride in their accomplishments and the peace of mind that comes from knowing they are doing their best as stewards of their land. Jane, a horticultural therapist, also points to the gardens' therapeutic value. "I recognize the benefits of sensory stimulation — sounds, smells, textures, and visual effects. When our guests at the B&B tour the garden (a lot come to us because of the garden), they are astounded at what they learn and experience. There is never a day that goes by that there is not something new to note."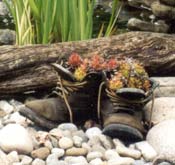 The Canadian Wildlife Federation, through its Backyard Habitat Certification Program, acknowledges the efforts of Canadians who garden with wildlife in mind. This is just one of our many certified gardens. Click here if you are interested in certifying your property.
<!-\\Default - single specific -->