<!-\\Default - single specific -->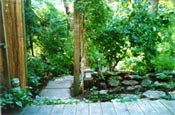 In a suburban environment where bare lawns dominate the landscape, the home of Rosemary Pauer features a small but lush garden that is both attractive and wildlife-friendly. Passionate about helping her wild neighbours in "darkest suburbia," Rosemary believes "a garden can be for wildlife and yet still be beautiful and interesting." Proof is in the remarkable number of wild animals that visit or live in her garden … as well as the interest it has sparked in both Canadian Gardening magazine and David Tarrant (gardening guru, TV show host and author). Both have featured her efforts over the years.

When Rosemary and her husband bought the house over 31 years ago, "there was absolutely nothing in the garden except some very dry turf on top of solid yellow clay," she explains. After some token plantings, Rosemary gradually added more trees, shrubs and vines, all the while developing an interest in gardening, native plants and the birds that had come to enjoy her efforts.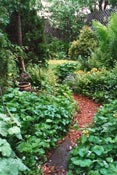 The front garden receives lots of sun and is therefore filled with plants that can handle the heat and don't require watering. It is in her backyard, however, where she has taken special pride in working with nature. Enchanting pathways through the trees and shrubs are bordered by violets, hostas and hundreds of ferns, creating many layers of foliage — habitat for birds and bugs alike.

Some native species that live in Rosemary's garden include the vine Virginia creeper, trees and shrubs like tamarack, white pine, trembling aspen, chokecherry, dogwood and birch, as well as echinacea with its striking flowers, and milkweed with its irresistible perfume. They all provide food, either through pollen, nectar, fruits or seeds, give shelter and attract insects for birds to munch on. Additional shelter comes in the form of a dead tree that woodpeckers love, and evergreen branches woven into vines that give birds winter protection from the elements and predators.

Although there are some areas of lawn in and amongst her plantings, even these areas are gradually being replaced by creeping Jenny (Lysimachia), which requires less maintenance than traditional grass. It gets damp when it rains, but Rosemary never has to water it, and it comes in different leaf and flower colours for visual interest.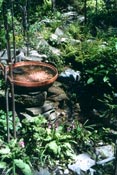 She provides water in a variety of containers from fancy concrete bowls to plant pot saucers. "The grackles like the three-feet-wide bowl, which is quite deep, and they splash like mad, whereas the robins prefer a slightly smaller bowl next to the biggest pond," she notes.

Rosemary takes great pleasure in observing her visitors. While some would scoff at animal scat or nibblings, Rosemary chooses to delight in observing, learning and being able to help wildlife — rarely are her plants badly damaged, although an opossum did take out a small yew one winter. And raccoons, a bane to some, are seen as valuable slug and snail predators. This lighthearted attitude also applies to her gardening — if something doesn't work in one spot, then it's an opportunity to try something else!

In addition to providing water, space, shelter and food, Rosemary is also conscious of doing her part to keep the habitat healthy. She composts with great enthusiasm, despite having a bad back. Her way around this is to have two closed compost bins for household organic waste and two large open bins for garden material. Of the closed bins, one is used during the winter and the other is filled from spring to fall. By alternating these bins, Rosemary lets them take their time to compost, instead of speeding up the process by turning the material within. They are kept near the house for easy use and she reports never having had a problem. "I also put an empty plastic garbage can by the back patio door to take the compost material on very cold days, and those times I don't want to bother to dress up to take it outside. It will be no problem to wheel it around to the compost bin when the weather warms up a bit." They get emptied once a year, which takes Rosemary a full day, but she takes her time sieving and sorting and feels great satisfaction at the end of her day's work. She also leaves her grass clippings on the lawn, never waters it and avoids pesticides.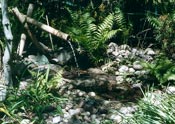 Rosemary adds "you don't have to have a large garden to help the birds and animals. All you need is the basics — food, water, shelter. Even town-dwellers can, with the right plantings, do something to help the birds. I love my little garden and the winged visitors which make every day a delight."

Anyone can turn their outdoor space into a gorgeous and inviting garden. Wherever you live in Canada and whatever the size of the garden you tend, click here to find out about CWF's Backyard Habitat Certification program which recognizes efforts, like those of Rosemary Pauer, to provide habitat for wildlife.
<!-\\Default - single specific -->