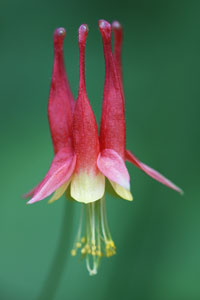 <!-\\Default - single specific -->
This bed showcases the great variety of beautiful native plants that can be grown in the shade. Many are woodland plants that bloom in the spring, utilizing the sunlight that reaches the forest floor before the tree leaves fully open. The front of the bed gets sun part of the day while the back spends most of the day in the shade. There are a variety of ferns that add texture to the beds and some low-growing plants are allowed to spread as ground covers.
To bring some colour and texture to your shady areas, try wild geranium, Virginia bluebells, woodland phlox, columbine, maidenhair fern, Christmas fern, Solomon's seal, wild ginger, miterwort, foamflower and for especially acidic areas, try bunchberry and wintergreen.
Name

Type

Schubert Chokecherry
Flowering Raspberry
-
Jacob's Ladder
Ostrich Fern
Verginia Bluebells
Wild Columbine
Creeping Stonecrop
Wild Ginger
Royal Fern
Rose-Twisted Stalk
Starry Flase Solomon's-Seal
Showy Stonecrop
Great Blue Lobelia
Mitrewort
Columbine-Meadowrue
Greek Valerian
Bottle Gentian
White Snakeroot
Small Enchanter's Nightshade
Globeflower
Greek Yarrow
Common Fleabane
Pearly everlasting
Spotted joe-Pye Weed
Blue Cohosh
Thin-Leaved Coneflower
Common Milkweed
Dog Violet
Sweet While Violet
Black Cohosh
Pussytoes
Rock Cress
Goldenrod
Interrrupted Fern
Bertram Anderson Stoncrop


DT
DS
-
G
G
G
G
G
P
P
P
P
P
P
P
P
P
P
P
P
P
P
P
P
P
P
P
P
P
P
P
P
P
P
P
P
| | |
| --- | --- |
| Type | |
| ET | Evergreen tree |
| ES | Evergreen shrub |
| DT | Deciduous tree |
| DS | Deciduous shrub |
| BE | Broadleaf Evergreen |
| V | Vine |
| P | Perennial |
| G | Grass |
| B | Bulb |
| | |
<!-\\Default - single specific -->