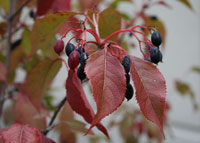 <!-\\Default - single specific -->
This bed surrounds the service entrance, softening the look of this area of the building. It needed some experimentation and patience to see which plants would thrive here, as many didn't survive over the years. This is likely due to the sudden shift of solid shade to hot sun in the growing season, exposure to road salt in the winter and exhaust fumes from vehicles year round.
If you have a challenging area, play around to see which native plants, herbs and beneficial annuals work for you.
Name

Type

Canada Serviceberry
Golden Flowering Currant
Bladdernut
Hemlock
Pokeweed
Garden Chives
Lavender
Nutmeg Thyme
Garden Sage
Sedum
False Sunflower
Grey-Headed Coneflower
Blue Fax
Sea Thrift
-
Barren Ground Strawberry
Sky Blue Aster
Golderod
Calico Aster
Thimbleweed
Showy Tick-Trefoil
Copper's Milkvetch
Foamflower
Blue Vervain
Pearly Everlasting


DS
DS
DS
ES
DS
DS
DS
ES
P
P
P
P
P
P
P
P
P
P
P
P
P
P
P
P
P
| | |
| --- | --- |
| Type | |
| ET | Evergreen tree |
| ES | Evergreen shrub |
| DT | Deciduous tree |
| DS | Deciduous shrub |
| BE | Broadleaf Evergreen |
| V | Vine |
| P | Perennial |
| G | Grass |
| B | Bulb |
| | |
<!-\\Default - single specific -->