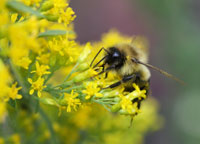 <!-\\Default - single specific -->
The pond bed has both a pond and recirculating stream. It was created to demonstrate a natural pond set up with features such as sloping sides. The pond contains some water plants which provide habitat to potential residents such as fish, water bugs and larvae of beneficial insects such as dragonflies.
If you want to have water-loving native plants in and around your pond, try water smartweed, arrowhead, pickerelweed, blue flag iris, cardinal flower and marsh marigold. For drier spots surrounding your pond, consider Coreopsis, false Solomon's seal, Gaillardia and barren-ground strawberry.
Name

Type

CoralBells
Pussytoes
Nodding Wild Onion
Dense Blazing Star
Moonbeam Tickseed
Lanceleaf Coreopsis
Blue Flag Iris
Tall Goldenrod
Indian Blanket
Spreading juniper
False Solomon's Seal
Western Jacob's Ladder
Purple Flowering Onion
AlumRoot
Dwarf Hairy Beardtongue
Longleaf Bluets
Bluets
Violet
Blue-Eyed Grass
PasqueFlower
Barren Ground Strawberry
Royal Fern
Smooth Solomon's Seal
Eastern Joe-Pye Weed
Cardinal Flower
Mountain Hollyhock
Common evening primrose
Grey Goldenrod
Black Cohosh
Goldenrod
Wood Fern
Maidenhair Fern
Virginia Waterleaf
Fern
Jack-in-the-Pulpit
Wild Bleeding Heart
Virginia Bluebells
Sharp-Lobed Hepatica
Violet
Shooting Star
-
Squirrel-Com
Bellwort
Wild Columbine
Great Blue Lobelia
Prairie Smoke
White Woodland Aster
Christmas Fern
Blue-Stemmed Goldernrod
Doll's Eyes
Meadow Blazing Star
Grey-Headed Coneflower
Blue Flax
Adam's Needle
Anemone
Michigan Lily
Wild Bergamot
Shrubby Cinqfoil
Liatris
Canada Lily
Pearly Everlasting
Purple Coneflower
Grey Dogwood
Pagoda Dogwood
Foxglove Beardtongue

GG. Grasses(4)


P
P
P
P
P
P
P
P
P

P
P
P
P
P
P
P
P
P
P
P
P
P
P
P
P
B
P
P
P
P
P
P
P
P
P
P
P
P
P
P
P
P
P

P
P
P
P
P
G
G
G
P
P
P
P
P
P
P
P
DS
DT
G
P
| | |
| --- | --- |
| Type | |
| ET | Evergreen tree |
| ES | Evergreen shrub |
| DT | Deciduous tree |
| DS | Deciduous shrub |
| BE | Broadleaf Evergreen |
| V | Vine |
| P | Perennial |
| G | Grass |
| B | Bulb |
| | |
<!-\\Default - single specific -->