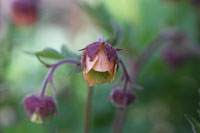 <!-\\Default - single specific -->
This bed provides nectar to hummingbirds through blooming plants with long tubular flowers. A decorative trellis was added at the back for a flowering vine. Most people think of feeding hummingbirds with sugar water, yet there are many native plants that hummingbirds naturally rely on as a source of nectar, including columbine, lilies, Penstemons, bergamot, bee balm, cardinal flower, honeysuckle and obedient plant.
Remember to keep your garden organic so that your hummingbirds can get sufficient protein from spiders and insects.
Name

Type

Dropmore Scarlet Honeysuckle
Common Milkweed
Obedient Plant (white variety)
Wild Columnbine
Old-Fashioned Bleeding Heart
Hairy Beardtongue
Heal-All
Harebells
Late Goldenrod
Dense Blazing Star
Wild Bergamont
Common Sundrops
Water Avens
Beebalm
Daisy Fleabane
Pearly Everlasting
Obedient Plant (pink variety)


V
P
P
P
P
P
P
P
P
P
P
P
P
P
P
P
| | |
| --- | --- |
| Type | |
| ET | Evergreen tree |
| ES | Evergreen shrub |
| DT | Deciduous tree |
| DS | Deciduous shrub |
| BE | Broadleaf Evergreen |
| V | Vine |
| P | Perennial |
| G | Grass |
| B | Bulb |
| | |
<!-\\Default - single specific -->