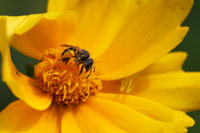 <!-\\Default - single specific -->
The round portion of this bed was designed to provide food for seed-eating birds such as finches, sparrows and juncos. A wide variety of perennials are a great food source when left to go to seed, such as sunflowers, grasses, asters, goldenrods and coneflowers, some of which grow here.
The shrubs that encircle this area provide fruit for birds such as waxwings, cardinals, catbirds and robins. A wooden perch was added along one edge of the bed, with a native grape vine to provide additional food.
To attract fruit-eating birds to your garden, consider dogwoods, serviceberries, wild roses, junipers and Viburnums.
Name

Type

Grey Dogwood
Riverbank Grape
False Sunflower
Thin-Leaved Coneflower
Autumn Joy Stonecrop
Lanceleaf Coreopsis
Comon Milkweed
Wood Anemone
Purple Conflower
Saw-Tooth Sunflower
New England Aster
Woodland Sunflower
Showy Sunflower
Cup Plant
Little Bluestern Grass
Grey-Headed Coneflower


DS
V
P
P
P
P
P
P
P
P
P
P
P
P
P
P
| | |
| --- | --- |
| Type | |
| ET | Evergreen tree |
| ES | Evergreen shrub |
| DT | Deciduous tree |
| DS | Deciduous shrub |
| BE | Broadleaf Evergreen |
| V | Vine |
| P | Perennial |
| G | Grass |
| B | Bulb |
| | |
<!-\\Default - single specific -->