<!-\\Default - single specific -->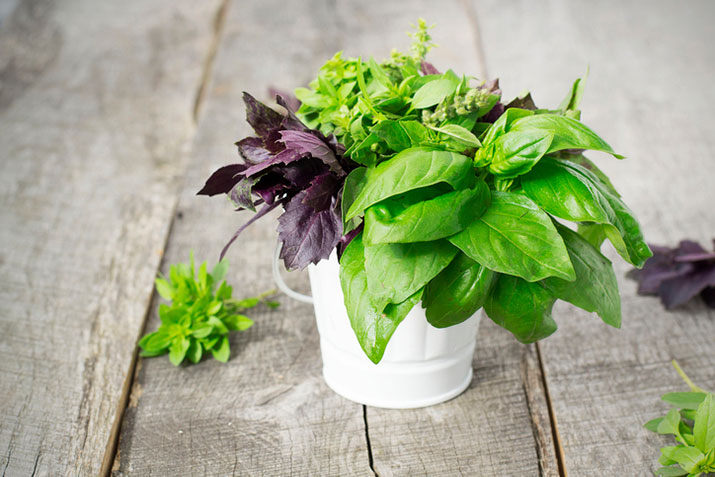 Basil is well known and loved for its fragrant leaves and delicious taste that especially go well in pesto, tomato sauces and on homemade pizza. There are many kinds such as the popular sweet basil as well as flavoured ones such as lemon, Thai and cinnamon basil. It's fairly easy to grow and full of nutrients so if you haven't tried yet, perhaps this is the year to add a pot or two to your garden!
Growing
In the Canadian climate, basil grows best in full sun, preferably in a spot sheltered from wind. Frosts can kill it so be careful at the beginning and end of the growing season to move pots to a sheltered area when the frost is in the forecast.t It also likes rich soil that is moist but well-drained.
To ensure a summer long supply of leaves, pinch out any flower buds that form or prevent them in the first place by harvesting leaves often. If you don't plan on harvesting lots, you may want to let it flower at the end of the season, providing food for small pollinators.
Harvesting & Storing
Harvest basil as you would most leafy plants, by cutting just above a set of leaves. This encourages bushy plant growth as two new stems will grow from the leaf axils (the angle between the stem and the leaf stalk).
Keep stems in a glass of water on the counter for a few days, out of direct sunlight as basil tends to go brown if stored in the fridge. If you want to keep it over the winter months, try the ice cube method. Blend or purée basil leaves with just enough olive oil to cover, place in ice cube trays and freeze. When solid enough (after a few hours) pop the cubes into a freezer bag. Alternatively, try water instead of oil, by placing basil leaves in the tray and cover with enough water. When frozen, place cubes loose in a freezer bag. They are then ready to add to soups and sauces when fresh basil is scarce.
Uses
Add fresh leaves to pizzas, salads, sandwiches and soups. Or try making pesto with basil leaves, olive oil, garlic, parmesan cheese and pine nuts or walnuts. There are many recipes out there with all sorts of variations including Jamie Oliver's and Serious Eats.com.
In addition to its culinary uses, basil has a variety of nutrients that help our bodies stay healthy, such as minerals, flavonoids and vitamins A and C. It is especially high in vitamin K.
<!-\\Default - single specific -->