<!-\\Default - single specific -->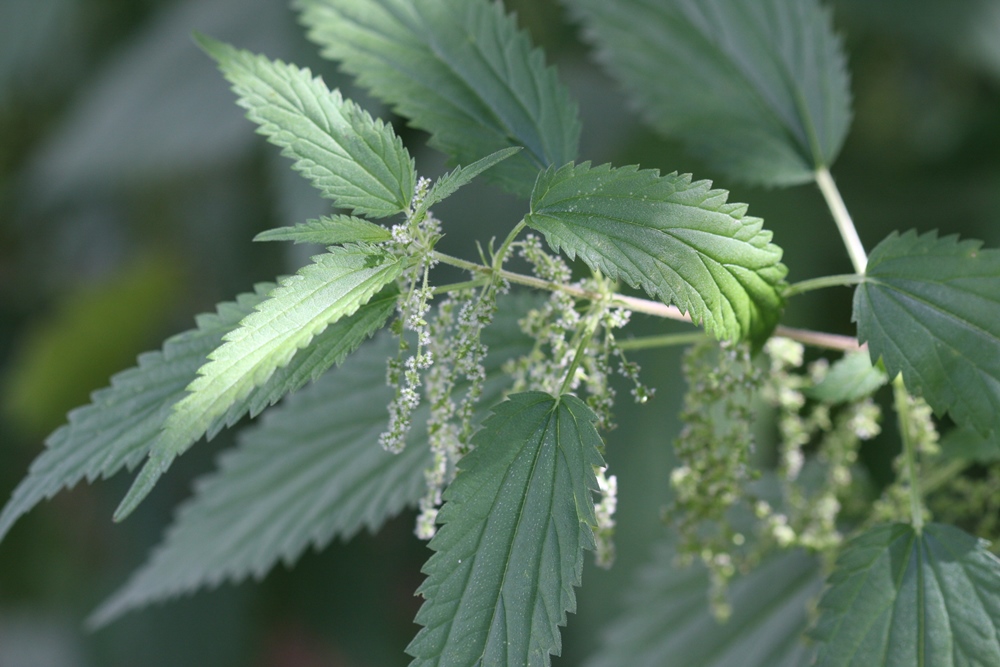 While often the bane of many outdoor enthusiasts, they are a goldmine to those that know the true value of this plant. For thousands of years, Nettles have been used as nourishment and medicine and its stems were used to make sheets, tablecloths and clothing. It is even used in the garden, in a biodynamic spray that was developed by Rudolph Steiner which stimulates plant growth and is also said to ward off aphids.
Aka – Nettles
French Names - feuille d'ortie, graine d'ortie, grande ortie
Did You Know? - Victor Hugo mentioned the benefits of Nettles for both humans and livestock in his famous book Les Misérables.
Status – Urtica dioica subsp. gracilis is the native species, found throughout Canada. The introduced species from Europe, Urtica dioica subsp. dioica, is reported in the Maritimes, Ontario, Quebec and British Columbia.
Where found/How to grow – waste places, moist ditches, open woodlands, riparian areas.
Identifying characteristics – Perennial. Nettles can grow to one to two metres. Opposite toothed leaves reach a few inches long and can be ovate to cordate in shape, with widths varying from quite wide to narrow (the native species are narrower). Flowers are small greeny-white clusters that hang from the leaf axil . Both stems and leaves are covered in thin hairs that sting.
Nutrients – Nettles are an extremely nourishing plant with vitamins A, B, C, chlorophyll, minerals like calcium, iron, silica and potassium and are very high in protein.
Medicinal Uses –The whole plant is strengthening and supporting to so many bodily systems. It has been used for centuries as a spring tonic to clear out toxins and as a restorative food when recovering from colds and flus. Some of the many specific conditions that Nettles have been used for include skin, goiter, thyroid, hay fever and asthma issues.
Poisonous Lookalikes – none
Cautions - Harvest leaves before flowers appear. According to Gregory Tilford, author of The EcoHerbalist's Fieldbook, "older leaves develop cystoliths, gritty particles that can be irritating to the kidneys." With gloves on your hands, hold a stem or leaf and snip 1/3 to ½ down the plant and place in a basket or large paper bag. Before you go inside, let the stems and leaves air outside in the shade (in your basket, bag or, even better, a sheet spread out, to allow any bugs to crawl or fly away. If you get stung,Rumex crispus and other docks, Spotted Jewelweed ( Impatiens capensis) and Plantain (Plantago major) can be crushed and applied to neutralize or minimize the sting. The irritation should go after a few minutes or hours, depending on exposure and a person's sensitivity.
Suggested Uses –
TIP: Dry or cook the plant to neutralize the formic acid which causes the sting. Click here for more tips on drying and cooking with edible plants.
Leaves:
Dry and make a tea.
Steam the leaves until tender and serve as a side dish with lemon, butter and sea salt. You can save the water and drink it, as with other steamed veggies.
Add chopped steamed leaves to soups.
According to Marilyn Walker, author of Identifying, Harvesting and Using Wild Plants of Eastern Canada , "Old English and Welsh cookbooks gave recipes for nettle beer…they were also used in herb puddings, pies, pastries, dumplings and porridge."
Recipes –
Nettle and Carrot Casserole
Steve "Wildman" Brill - Identifying and Harvesting Edible and Medicinal Plants
The incredibly rich flavor of nettle leaves is complemented by the sweetness of carrots and the tang of yogurt.
2 cups thinly sliced wild or commercial carrots
2 cups Nettles
1 cup yogurt
2 eggs
2/3 cup soy milk, milk or the reserved nettle-carrot broth (or any combination of these liquids)
2 cloves garlic, minced
½ tsp dry, powdered mustard
¾ tsp sea salt
Dash of cayenne pepper and nutmeg
Simmer the carrots for 10 minutes in one-half inch of water. Add the Nettles and simmer for another 5 minutes. Reserve the cooking water. Mince the vegetables in the blender or by hand, and mix in the remaining ingredients. Put in an oiled baking dish and bake at 275F for 15 to 20 minutes, or until the casserole solidifies.
Serves 4
Nettle Veggie Soup
CWF
6 carrots, chopped
4 celery stalks, chopped
2 leeks or 1 small onion – chopped
Olive oil
4 cups veggie broth (mix your favourite cube or powder in water)
Tomato puree (plain peeled canned or fresh tomatoes - not paste or sauce)
Nettles , blanched or steamed and chopped. As much or as little as you like.
Sauté leeks or onion in oil for a few minutes, stirring often. Add celery and stir one minute. Add 4 cups of broth. Simmer 10 minutes and add 1 cup tomato puree. Add your favourite spices, such as cumin or turmeric at the same time you add the Nettles. Simmer until the veggies are cooked.
Nettle Mint Tea
CWF
1 big pinch of dried nettle leaves
1 big pinch of dried peppermint leaves
Dash of dried stevia leaves
Place in your favourite tea pot and add almost boiled water. Water that is not fully boiling will not destroy the heat sensitive nutrients. Let steep for 10 minutes, strain and serve.
Caution: We encourage readers to do their own research and decide if the plants mentioned are suitable for their use. While some plants are completely safe for most people, some have unique sensitivities and should proceed with caution, being mindful of any reactions that occur. Some plants are harmful if the incorrect part is used, or if harvested at the incorrect time (mushrooms, for example). Also check with your health care professional to see if any of this plants' compounds could interfere with any medication being taken, if consumed in large or small doses.
<!-\\Default - single specific -->