<!-\\Default - single specific -->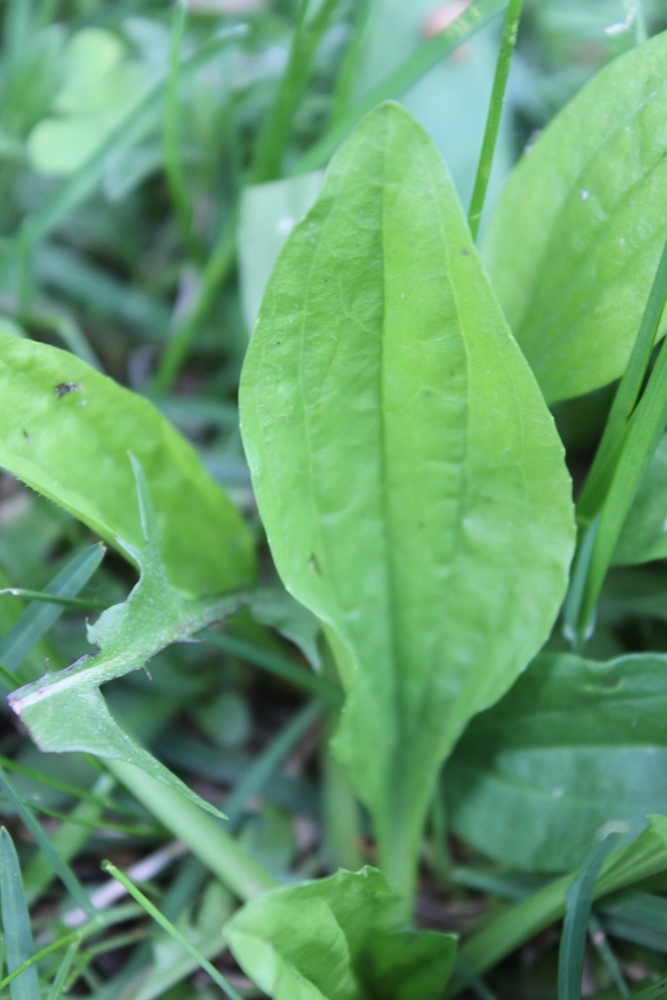 Plantain

Broadleaf Plantain is probably the most commonly recognized species of Plantago by gardeners and edible wild plant enthusiasts with Plantago lanceolata (English Plantain, Narrowleaf Plantain, Long-leaf Plantain) close in second. Also called Common Plantain, it is not the tastiest of wild plants to consume, but its nutritional and medicinal value more than balances the scales for many people who have come to know its virtues.
Aka
Common Plantain, Black Jack, Lamb's Tongue, White Man's footprint (given by the early Aboriginals who saw it arrive with and spread by the early settlers)
French names
bonne mere, herbe de Saint-Joseph, herbe à sept côtes, herbe aux piques, oeil de chien, oreille de lièvre, queue de rat, pulicaire
Status
Non-native
Did You Know?
Romeo praised this humble plant in Shakespeare's famous play Romeo and Juliet, touting its virtues for healing cuts.
Where It is Found/How to grow
Commonly found in lawns, roadsides and waste places.
Identifying characteristics
Perennial. These plants are recognizable by their rosette of wide green leaves that are ovate to broadly elliptical with a rounded or somewhat pointed tip. Leaves can grow up to 20 cm long and have prominent veins running from base to tip. One or more flower stalks rise up to 25 cm, bearing a spike of small whitish-green flowers.
Nutrients
Leaves have vitamins A, C, E and minerals such as calcium, magnesium and iron. Seeds are also very nourishing.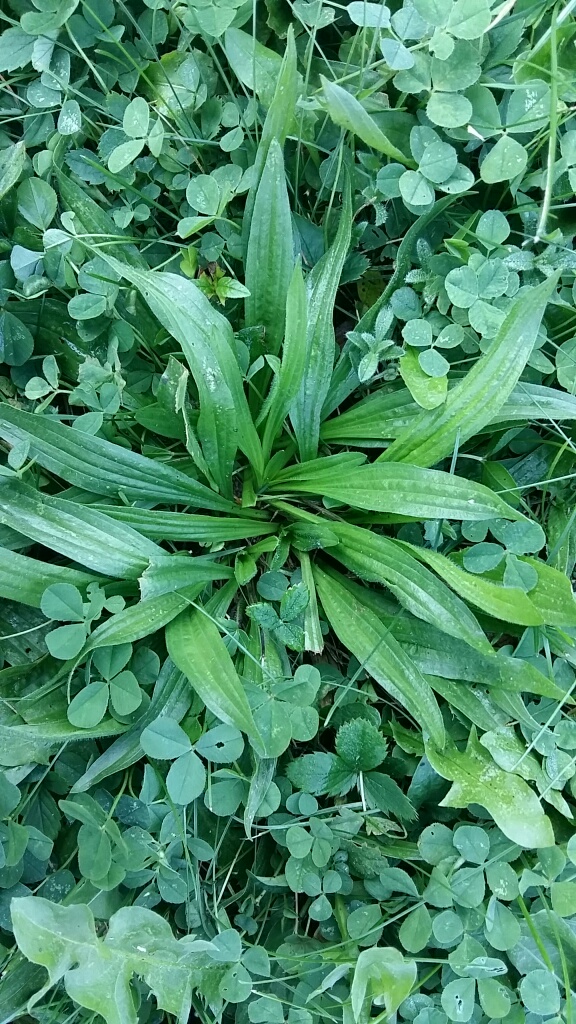 Narrowleaf Plantain Leaves

Medicinal uses
Plantain is used for many ailments such as infections, inflammation, kidney, bladder, stomach and intestinal problems as well as breathing conditions. If you have an insect bite or bee/wasp sting, grab some leaves, chew them up into a mash and apply as a poultice to the sting. This also helps other wounds and irritations such as cuts, minor burns and stinging nettle reactions. You can also make a strong tea which, once cooled, can be applied to an infected area. Seeds are a laxative.
Poisonous lookalikes
If you are unfamiliar with Plantain, they could be mistaken with many members of the Lily Family when young so wait until the flowers appear to tell them apart.
Cautions
Very high doses may affect blood pressure or cause diarrhea and is best avoided by people with intestinal obstruction or abdominal discomfort. If you are unsure what dosage is safe for you, check with a qualified health professional such as a highly recommended herbalist or naturopath.
Suggested Uses
Use young leaves in salads, soups, stews, smoothies or stir frys or as a steamed vegetable. Simmer in water for 15 minutes and eat like spinach. Older leaves tend to be too tough, thanks to the fibres that form the deep veins, but can be used in a vegetable stock, as suggested by EMP.
Eat seeds as an insect repellant.
Tom Brown Jr., author of many tracking and survival books, adds Plantain seeds to salads and breads as well as grinds them up to use with other flours for bread. He even makes Plantain butter as a peanut butter substitute by "mixing partially dried and crushed seeds with equal parts butter."
Recipes
Plantain Seed-Quinoa Pilaf
Steve "Wildman" Brill - Identifying and Harvesting Edible and Medicinal Plants
Quinoa is a light, tasty, high-protein, grain-like seed that's becoming increasingly popular in health food circles. This dish is crunchy, light and nutritious.
2 cups water
1 cup quinoa
¼ cup common Plantain seed capsules
2 tbsp finely chopped fresh basil or 2 tsp dried basil
1 clove garlic
1 tsp sea salt, or to taste
1 tbsp olive oil
Bring the water to a boil and add the quinoa and Plantain seeds. When the grains are fluffy, turn off the heat and add the remaining ingredients. Let sit 5 minutes before serving.
Serves 4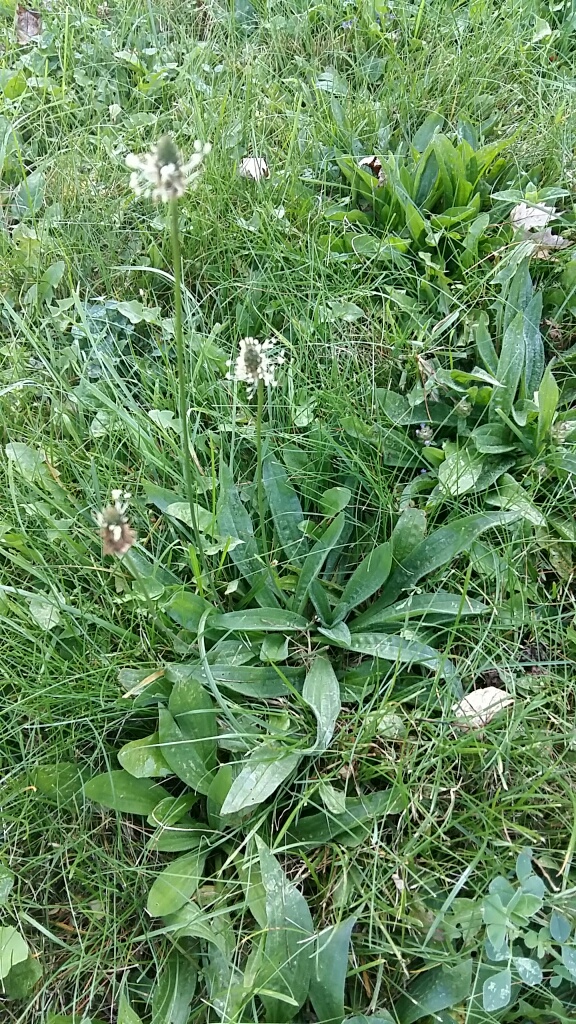 Narrowleaf Plantain with Flowers

Veggie Plantain Burgers
CWF
1 package 500g tofu, soft or firm
2 red peppers
2 onions
2 stalks celery
2 carrots
½ cup young Plantain leaves
Handful chopped parsley
Sea salt
1 tsp ground Plantain seeds
A little unbleached flour
Steam or simmer the Plantain in water until tender. Chop and mix all ingredients (except flour) in a food processor. In a bowl, add just enough flour to help them bind. If you need more moisture, add a beaten egg. Form handfuls and place on a buttered cookie tray. Bake in the oven at 350F for about 15-20 minutes. Turn them over and bake some more. They are soft and may not work well in a bun, but are a great side dish with a salad or cooked veggies. You can also drizzle some tomato sauce and your favourite cheese on top (once they are cooked) and bake in the oven until warm and the cheese has melted.
Wild Side Salad / Quinoa Garden Salad
CWF
3 cups cooked quinoa
1 large carrot, peeled into short strips
2-3 stalks of celery, chopped
1 cup tomatoes, chopped
½ cup mix of young Plantain and other edible greens
½ cup Jerusalem artichokes, sliced, chopped or grated
As much lettuce, spinach and/or wild green as you wish
Handful of violet flowers
Mix all ingredients and serve with your favourite salad dressing. Or, mix ~ 2 Tbsp of the dressing below. (Put the rest of the dressing in a glass jar in the refrigerator – it will keep for a few weeks.)
Top with a sprinkling of violet flowers.
Salad dressing:
Olive oil
Apple cider vinegar
1 small clove of garlic, pressed or finely chopped
1 tsp herb (thyme, basil or oregano)
Pinch of cayenne
Umboshi paste (optional). If you omit, add more apple cider vinegar
Caution: We encourage readers to do their own research and decide if the plants mentioned are suitable for their use. While some plants are completely safe for most people, some have unique sensitivities and should proceed with caution, being mindful of any reactions that occur. Some plants are harmful if the incorrect part is used, or if harvested at the incorrect time (mushrooms, for example). Also check with your health care professional to see if any of this plants' compounds could interfere with any medication being taken, if consumed in large or small doses.
<!-\\Default - single specific -->