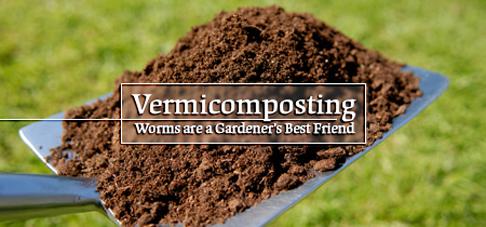 Worms Are a Gardener's Best Friend
By Danielle Lefebvre
What do household recycling and natural fertilizers have in common? For one, they both help to increase the lifespan of household items that would otherwise be disposed of, and secondly: worms!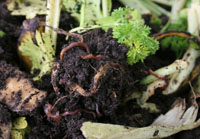 This fascinating indoor recycling practice can be practiced by both apartment and house dwellers alike. Outdoor and indoor plants will benefit from the worm castings, which are a natural soil amendment/fertilizer that is known to have a highly productive impact on the yield of your flower blooms and overall health of your garden.
All you need to start is:
A plastic bin with a lid (68 L) – holes should be punctured into the bin for aeration
A handful of sand and 4 L of soil (no perlite or vermiculite)
1 lb of red wriggler worms (Eisenia Foetida)
Cardboard egg tray or newspaper – cut up into small pieces
Kitchen scraps
Imagine the bin divided into six sections. Place a maximum of 5lbs of cut or blended kitchen scraps, (the size of a gallon of ice cream) into one of the designated sections of the bin. Cover well with bedding to ensure you don't attract flies. Feed the worms every 10 days.
Important factors to consider:
The bin must be kept indoors at room temperature (18°C – 22°C).
Do not feed meat, dairy, citrus fruits, onions, or garlic to the worms, as such foods will not be properly digested.
Feeding amounts should not exceed 5lbs as 1lb of worms will not have the capacity to consume all of it.
There is no need to add water to the bin initially or thereafter as the soil and kitchen scraps offer enough moisture to keep the worms healthy.
To save time and energy, harvest castings on an ongoing basis and replace the quantity removed with new soil mix. After three months, the soil in your bin will be completely regenerated.
Worm composting will improve the soil structure and drainage of sandy and clay soils, and will increase soil biodiversity and add micro-nutrients to the soil.
Agriculture Technician, Owner and Operator of Natural Garden Services, Danielle Lefebvre specializes in wormcomposting practices. She can help you learn how to harvest and maintain the bin, troubleshoot when wormcomposting and identify and understand ecodiversity in the bin.
For more information please email at info@naturalgardenservices.com or call 613-421-8519.