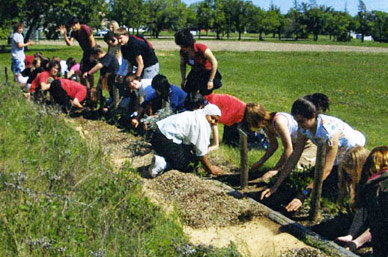 There are several steps involved in putting together a successful community habitat project. If you go through these steps thoroughly, you'll very likely create a worthwhile project that will benefit both your community and local wildlife.
Identify your project. Look around your community for project ideas. For instance, is there an abandoned lot, roadside ditch, or ravine that could be enhanced? Adapt backyard projects for the community. For example, install a whole network of bird houses throughout your municipality's parks. Or if you are stuck for ideas, talk to wildlife biologists at your provincial or territorial wildlife department. Ask for suggestions on a community project that will benefit local wildlife.
Seek advice before you start. Consult with the experts. Start by contacting your federal, provincial, or territorial government wildlife office. Even though communities mean well, we can sometimes cause terrible problems for wildlife simply because we don't know any better. So be sure to get advice from the proper authorities.
Establish a network. Good information and advice can help you create a great project. Talk with wildlife biologists, naturalists, municipal employees, plant nursery employees, conservation officers, and anyone else you can think of. Contact your town hall or chamber of commerce for a list of local environmental or naturalist groups that can provide useful information and contacts.
Make use of government departments. In tracking down information from government departments, you may have to make quite a few phone calls to locate the right department. Remember that the three levels of government—federal, provincial or territorial, and municipal—are listed separately in the blue pages of the telephone directory. If you can't track down the information, call Reference Canada at 1-800-667-3355, unless you live in Manitoba or Quebec. In Manitoba, call 1-800-282-8060; in Quebec, call 1-800-363-1363. Reference Canada can help you locate federal as well as provincial or territorial government numbers. Or you can check Environment Canada's web site, which has links to the environmental departments of each province.
Develop a community action plan. Ask landowners or the proper authorities if they're agreeable to your project. After obtaining approval, prepare a detailed, written plan. Be clear about what groups and how many people will be involved. Specify what you're going to do; where, how, and when it will take place; who is going to do what; and how wildlife and your community will benefit. Be sure to keep landowners or the proper authorities up-to-date on your project's progress.
Assess the impact. Even well-meaning plans to help wildlife can sometimes upset the balance of an ecosystem. That's why an environmental assessment review is a good idea before you begin. This should describe the purpose of your project and consider what vegetation and animals already exist at the site and how your plans and any plants you're planning to introduce will affect them. You should also consider how the site is currently used; e.g., for walking, biking, or dumping garbage. How will your project improve the site for wildlife? How will you minimize any disturbance to existing wildlife?
Create a committee. If there are a lot of people involved in your project, you'll need to set up a committee. Members with diverse backgrounds will help ensure the project's success.
Remember the little details
As you move your project through its various stages, don't forget small but important details:
Write thank-you notes to anyone who helps along the way.
Invite people who have helped to any special events connected with your project (for instance, a ceremonial sod turning, or putting up the first nesting box in a municipal park).
Keep sponsors up-to-date on your project's progress with a brief, typed fact sheet.
Keep the media informed of what you're up to; publicity will help educate your community about wildlife and motivate others to take action, too.
Create photo opportunities with your project and invite the media.