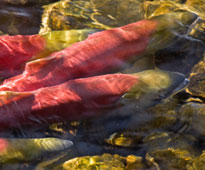 Name/Org:
Keith Tierney/University of Alberta
Status:
Completed
Description:
The researchers had reason to believe that a fish's ability to swim for extended periods of time, such as during migration, is affected by the presence of contaminants. This project studied Salmon's swimming ability and energy expenditure in the presence of contaminants in the water. In addition, the researchers looked at whether salmon species change their behaviour in the presence of contaminants, specifically with those related to oil and gas exploration.
Results:
In order to get a comparison, the researchers tested fish from different areas suggesting that perhaps some location inherently may just be better swimmers. They found that in fact swimming performance was better in fish from one environment as opposed to another. Since these species often swim in schools, they also tested swimming performance in groups and found that from one area the fish swum faster in a group than on their own, but fish from the other areas did not. This again shows local adaptations to the environment in which they live. The researchers explained that these differences could be the result of genetic differences between species of different areas or as a result of the local environment or a combination of both. Interestingly, contaminants did decrease swimming ability (but may affect different strain or species differently), but not so much so when the fish were swimming in groups.