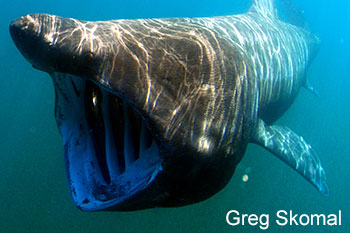 Name/Org:
Andrew Westgate/ Grand Manan Whale and Seabird Research Station
Status:
Completed
Description:
Basking sharks are the second largest fish in the world. They take 18 years to reach maturity and have a gestation period of approximately two and a half years. These factors make it difficult for population recovery once declines have begun. Globally they are recognized as Vulnerable by the International Union for the Conservation of Nature and in Canada have been designated as Special Concern with the pacific population listed as Endangered by the Committee on the Status of Endangered Wildlife in Canada. To help population recovery, Dr. Andrew Westgate from the Grand Manan Whale and Seabird Research Station assessed the diving and movement behavior of individual basking sharks using data logger tracking tags. This information will be used to assess the risk of mortality due to ship strikes in the commercial shipping corridor in the Bay of Fundy. Dr. Westgate also attached special tracking devices to gather migration information – namely the basking shark's wintering grounds. This information will allow researchers to assess additional threats to the populations outside the summering grounds.
Results:
Prior to Westgate's research, very little was known about basking shark movements, but with this research we are getting a clearer picture of where this species travels throughout the year. From mid-October to early November, the basking shark leaves the Bay of Fundy and the Gulf of Maine waters and moves south east towards the Sargasso and Caribbean seas. This information was truly significant for conservation as most Canadian lobster gear is deployed after most of the basking sharks have left our waters, thereby reducing the risk of entanglement in ground lines. Over the course of his research, Westgate was able to collect 1840 days of data that tracked the movement of these sharks. Using satellite tags, they tracked 10 sharks over the course of 2011 and 2012; the tags were particularly designed for fish like sharks which don't spend enough time on the surface to allow the use of real-time satellite tags. These particular tags collected data while attached to the shark and popped off in time, floating to the surface, where the data was then picked up by a satellite and transmitted to researchers. During the course of his research, they were able to document some of the deepest dives ever recorded from basking sharks (1460 metres and 1600 metres).