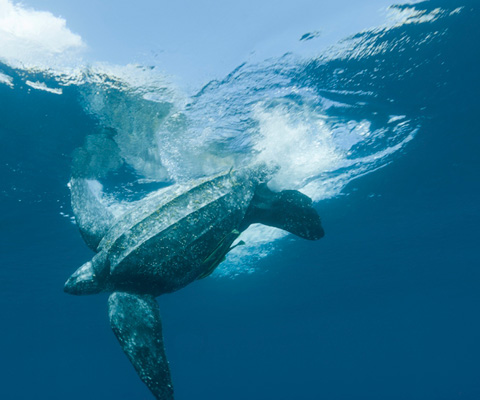 Name/Org:
Dr. Christopher Taggart/Dalhousie University
Status:
Completed
Description:
Researchers at Dalhousie University gathered spatial data to characterize the critical habitat for leatherback turtles. Using precise GPS transmitters, the timing of turtle movement, depth to which they dive, exact location and water temperature were collected to analyze habitat use with respect to food sources and time of year. This information is essential to determine critical habitat for a species such as this that moves in relation to its prey. The results also allow researchers to determine where these turtles will be located in relation to human activity in order to minimize harmful interactions.
Results:
Researchers tagged leatherbacks with GPS tags, and mounted video cameras as well as temperature recording dives to their shells in order to find out where the leatherbacks preferred to visit in the Atlantic so they could properly define critical habitat for the species. The technology really helped researchers to get a complete understanding of their underwater habitat conditions – from the temperatures they swim in to the even the depths they swim to.
Taggart's research was able to help predict the depths leatherbacks go to forage for jellyfish off the coast, which will be paramount in protecting the leatherback from bycatch and vessel strikes in the area. Moreover, they found out that considering the turtles are cold-blooded, they likely take advtantage of the warm upper and cold lower layers of the water to regulate their temperatures. Furthermore, light seems to deeper when the sun appears again. This new data has helped researchers to learn that they likely rely primarily on sight to forage for jellyfish.