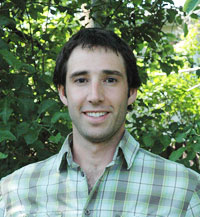 James Pagé is CWF's species at risk and biodiversity program officer. He leads CWF's initiatives on species at risk conservation as well as CWF's involvement with provincial and federal governments with respect to endangered species protection.

James joined CWF in 2011. He completed his post bachelor's degree in environmental science and biology at Simon Fraser University in 2006. He most recently worked for the Ontario Ministry of Natural Resources as a species at risk biologist and has also worked as a landscape ecologist with Parks Canada and the Eastern Ontario Model Forest.

James is an outdoor enthusiast, often heading out hiking, trail running or snowshoeing but is easily distracted to identify local plants and is always keeping an eye out for species at risk. He takes pleasure in the trails near the CWF office and excursions to the Appalachian Mountains that run through his home town in Quebec's Eastern Townships.