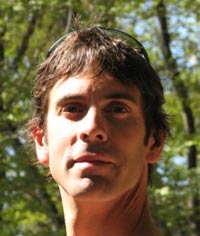 <!-\\Default - single specific -->
David Browne is the Director of Conservation at CWF. He leads the overall development and delivery of CWF's conservation programs. David holds Masters degrees in both environmental policy and marine pollution. He received his doctorate in freshwater ecology from McGill University in 2008 for his work on brook trout ecology in Algonquin Park.

David has extensive experience in a number of different fields of conservation and has worked at the local, national, and international levels. He has conducted field research on Atlantic salmon, brook trout, lake trout, coral reef fish, and Java Sea commercial fish. David has published on the politics of urban air pollution, the impacts of marine pollution, freshwater conservation and co-produced a film on coral reef conservation in Indonesia.

David served as a Director of the Board for the Urban Ecology Centre of Montreal for three years where he addressed issues of urban environmental sustainability. In 2007, he helped set conservation priorities for freshwater fish conservation in northern Ontario while working as a researcher for the Wildlife Conservation Society of Canada. Prior to joining CWF in 2010, David coordinated the development of the Species at Risk Act policies and the Boreal caribou recovery strategy for Environment Canada.

David takes his inspiration from noticing the beauty in the small details of nature whether it be in the green spaces of the city or the vast wilderness areas we are lucky to have in Canada.
<!-\\Default - single specific -->