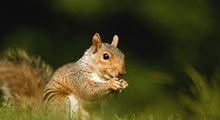 We actually don't encourage feeding squirrels. I know some people find enjoyment in this but there are some considerations to keep in mind:
If squirrels are dependent on handouts, it can prevent them from foraging on natural food sources. This can lead to health issues if they're not getting the proper nutrients.
Squirrels can lose their natural fear of people when they begin to associate people with food. While you love squirrels, others in your neighborhood may not and could react differently to a bold or approaching squirrel.
Feeding can also cause an unnatural number of squirrels to congregate in an area, larger than what the surrounding natural resources can support. This can lead to an increase in the spread of diseases.


It can also spell problems with your neighbours if squirrels start digging up their flowerbeds, chewing on their windowsills or nesting in their attic.
However, just because you shouldn't feed squirrels doesn't mean there isn't anything you can do for your backyard visitors.

You can plant native plants. Not only will plants provide shelter for squirrels, it will also provide a food source! And you won't get an unnatural number – only what the plants can support.

Consider planting shrubs such as wild cherry, red osier dogwood and hawthorn. Trees important to a squirrels' diet include oak, hickory, beech, pine, spruce, and maple. These plants will provide a source of nuts, buds, and fruits, but some will also serve as nesting sites. Visit our Native Plant Encyclopedia to see what plants are native to your area!