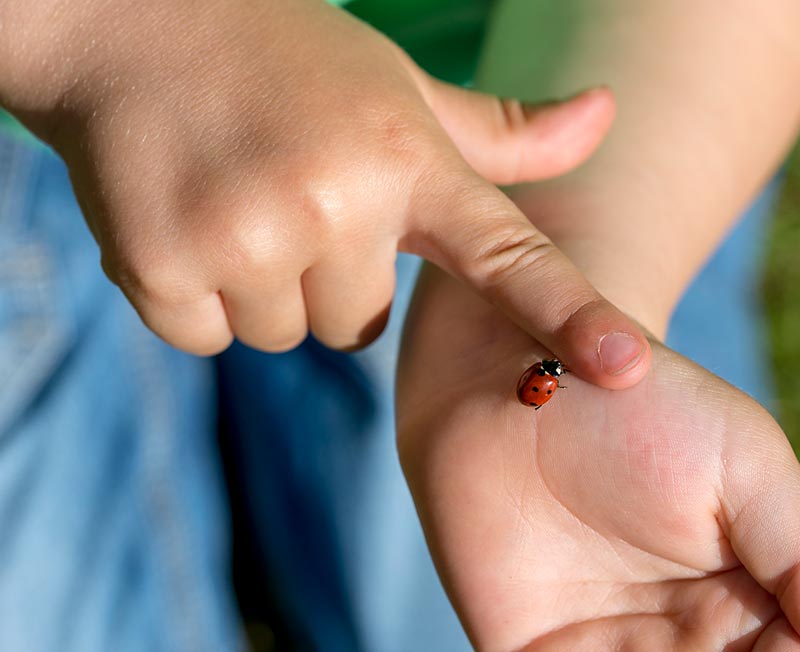 A. If you find ladybugs in your house in the fall chances are these are Multicoloured Asian Ladybugs. These Asian ladybugs are native to Asia and in their native range overwinter in cracks and crevices of cliffs and rock outcrops. However in Canada, Multicoloured Asian Ladybugs have found an alternative spot to overwinter. They are attracted to the sunny sides of buildings, including houses, and eventually find their way inside through various cracks and openings such as around doors and windows.

Many of these non-native ladybugs that have entered your home will end up dying whereas others may overwinter in walls only to resurface on sunny mild days. Rest assured, however, that these ladybugs are not known to eat building materials, wood, or clothing and are not interested in eating any of your food. In fact, Multicoloured Asian Ladybugs do not eat when they overwinter but instead survive off of their body fat stores. They also are not known to transmit any diseases and while they don't sting they may give you a light bite.

Native ladybugs are one of the good bugs — they help gardeners and farmers by getting rid of insect pests, most notably aphids. While Multicoloured Asian Ladybugs also feed on insect pests they can also compete with our native ladybugs for food and habitat.

So how can you tell the difference between our native ladybugs and the Multicoloured Asian Ladybug? Probably the easiest way is by their colour. Multicoloured Asian Ladybugs are commonly a yellow-orange colour and they are also a bit larger than our native ladybugs.

When ladybugs come en masse inside your house, it is understandable if you would prefer them to be outside.

You can try sweeping or vacuuming the ladybugs. It is important to note that they do release a yellowish secretion when disturbed which can be a bit smelly and can also stain some surfaces. Some people therefore prefer to vacuum them. If you intend to release them outside, place a nylon stocking into the extension hose or wand of your vacuum, positioning it in place with a rubber band, creating somewhat of a bag. When done, turn the vacuum off and remove the stocking right away to prevent them from escaping. I have been told that if you do not make the "nylon stocking bag" do not leave the lady bugs in the vacuum for too long as you may have an unpleasant smell every time you vacuum.

To prevent further invasions seal any cracks and openings around windows, doors, fascia boards, soffits, pipes and wires with caulking or another appropriate sealant. This is best done in late spring or early summer before Multicoloured Asian Ladybugs begin looking for places to overwinter.