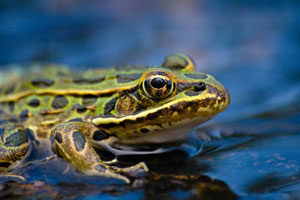 Depending on the species, frogs hibernate either under water (e.g. the bullfrog or northern leopard frog) or on land (e.g. the spring peeper or striped chorus frog). If they hibernate under water, they will only survive if the pond doesn't freeze completely. Generally, the recommended depth to prevent complete freezing is two metres but this varies by location. At least one section of the pond should be below the frost line. If the pond is not deep enough, it is possible to keep it from freezing by using a pond aerator or waterfall. It's also a good idea to leave some debris on the bottom of the pond. If your pond lacks debris, you can put some clay soil in a pan and sink it to the bottom.

You can help frogs that hibernate on land by placing piles of leaves, in which they can overwinter, in garden areas around the pond. If you're not sure what type of frog you have, add leaf piles just in case since leaves are good for the garden anyway.

To ensure the survival of frogs, be sure to have lots of hiding places in both your pond and garden. Plants in your pond will protect eggs and tadpoles from fish. PVC pipe and clay pots will also serve as protection in both your garden and pond.