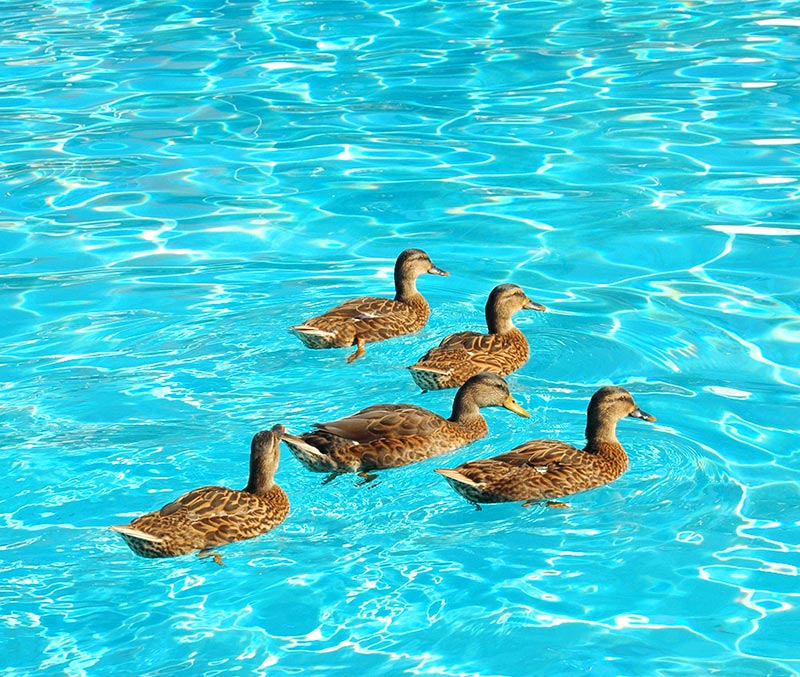 A. This is really a timing issue. If it is early spring, nesting isn't far away. It is important to note that waterfowl and their nesting sites are protected by Federal Law which makes it illegal to destroy or disturb nests and eggs in anyway.

Because of this, prevention is key – you want to make your pool less desirable to the visiting ducks, before nesting begins. Once the nest is active you cannot use any deterrents. To make your pool less attractive you can:
Place numerous floating toys in your pool
Place stakes in the ground at your pool corners and use mylar streamers across the pool in an X-shape or a grid pattern
Plant tall grasses around the pool. Predators can hide in tall grasses which makes ducks nervous.
Refrain from putting seed in your bird feeders before nesting begins as this can act as a food source
Cover your pool with a pool cover when you are not using it
Use scarecrows with moveable parts
If there are ducklings in your pool, you need to make sure they are able to climb out. Because they can tire quickly give them something to rest on by putting in flutter boards or Styrofoam cooler lids. Create a few ramps around the pool by securing flutter boards, cushions or a piece of wood to your pool. Leave the area. It may take some time but they'll eventually figure out how to use the ramps and get out of the pool.