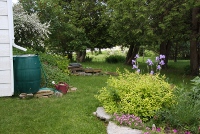 Moles and voles, while small in size, can cause significant damage to gardens and lawns. Moles eat earthworms, grubs, slugs, and insects, however their tunneling below the soil exposes plant roots often killing the plant. In contrast, voles are herbivores and it is their foraging habits that are detrimental to plants.
If you are having a problem with moles or voles, there are a couple of deterrents you can try:
• Place a toy windmill in the tunnel. When the windmill blows it will create vibrations in the ground.
• Place an empty pop bottle in the soil so that the mouth of the bottle is just above the ground. When the wind blows, a whistle noise will be generated, deterring moles.
• Moles can be a source of insect control as they eat worms and underground larvae such as grubs. They also help to aerate the soil with their tunneling activities. However, this tunneling can also cause problems for your lawn. Newly planted bulbs and root systems can also be vulnerable to mole tunneling. If this describes your situation, consider caging your bulbs and roots underground with quarter-inch wire mesh.
• When bark has been removed from around the base and root systems of plants and trees, these are signs of vole activity. This vole damage can be prevented by removing or trimming any cover that the vole could use from around the base of the tree such as mulch, grass, even snow. Wrapping the trunks of trees with quarter-inch wire mesh will also deter voles. To protect plant roots and bulbs, either cage the entire flower bed or the underground part of the plant with quarter-inch wire mesh.