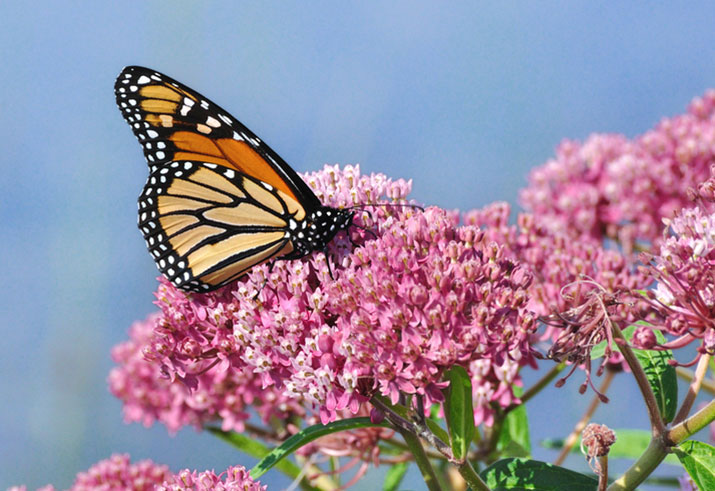 Q. I keep hearing that I should be planting Milkweed in my garden for Monarch Butterflies. Aren't they weeds? It got me thinking - what other kinds of weeds are actually beneficial?
A. The word "weed" can have different meanings to different people. What is considered to be a weed to one person, may be a beautiful plant to someone else. Also, something may be considered a weed in one location but a desired plant in another location.
You mention Milkweed. You might assume it has to be a weed since after all it has "weed" in its name! But this "weed" is very important for Monarch Butterflies - Milkweeds are the only plants that Monarchs will lay their eggs on.
There are many other "weeds" that are important to Canada's pollinators. Just check out this list:
Goldenrod – important for pollinating flies such as Flower, Bee and Tachinid Flies
Joe-pye Weed – important for butterflies and day-flying moths
Lupine – important for bees
Fireweed – preferred by many hummingbirds
Aster – used by pollinating beetles
Stinging Nettle – a food source for Red Admiral caterpillars
Willow Trees – a food source for Tiger Swallowtail and Viceroy caterpillars
Yarrow – an excellent source of nectar for pollinators from summer through fall
Dandelions – yes, even dandelions are a food source for caterpillars such as Isabella Tiger Moths
The seeds from these "weeds" can also be an excellent food source for birds. Because "weeds" can spread quickly if not managed, check to see if birds are eating the seeds. If not, you may want to cut the flower/seed heads off to keep the plants from spreading too much.