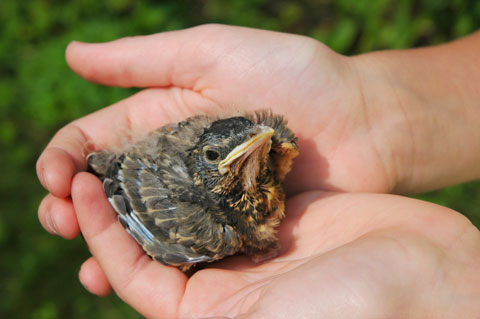 If a bird has hit your window and doesn't have any visible signs of injury such as blood or an awkwardly positioned wing, it may just be stunned and need a few minutes to recoup, the less handling the better.

If you know it's just stunned, and you're not concerned about any predators such as cats getting at it, it is best to leave the bird alone. If the bird is in direct sunlight or if the temperature is hot, you can very gently (wearing gloves if you prefer) move the bird a short distance to a shaded spot. Check the bird periodically. If it has not flown off after an hour, you should contact a licensed bird rehabilitation centre.

But if you are concerned about cats in the area, very gently pick up the bird and place it in a cardboard box, providing air holes if needed. Close the box or cover the opening with a towel. Do not attempt to feed or give the bird water and do not wrap the bird in anything. Once you hear sounds of movement lift the top off the box and let the bird fly away. If, however, after an hour the bird has still not moved, contact a licensed bird rehabilitation centre.

If the bird has sustained noticeable injuries, like a broken wing, contact a licensed bird rehabilitation centre right away.

Whatever you do, don't become so attached to the bird that you consider keeping it as a pet. It's illegal to have a live wild bird or a carcass of a wild bird in your possession.