I found a family of mice in my garage. I don't mind them staying over the winter, but do you think they'll try to get into my house?

If your garage offers shelter and food, then mice will happily occupy your garage for the winter. And keeping mice out of a garage can be especially difficult. Did you know that mice only need an opening about the size of a dime to get inside?

Your best solution is to animal-proof your garage to prevent mice from gaining access in the first place:
If you have any food in your garage, such as dog food or bird seed, be sure to keep it well-stored in animal-proof containers.
Make sure the seal under your garage door is in good condition. If there are any cracks or other signs of wear and tear, the seal should be replaced.
Seal any large openings with 24-gauge, 1/4-inch x 1/4-inch welded wire mesh. Mice can't chew through this material and won't be able to fit through the openings in the mesh.
Stuff smaller openings with stainless steel or copper scouring pads. Again, mice won't be able to chew through this material.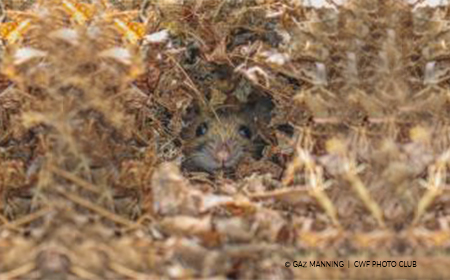 If mice gain access to your garage and the garage is attached to your home, there's a chance the mice will try to venture into your home, so you'll need to take extra precautions. Ensure all openings to your home are sealed and that food is well-stored. And keep the adjoining door to the garage closed when no one is using it.

Mice typically try to access our garages and homes in fall and winter to escape the cold weather. It's always a good idea to make a point of animal-proofing these spaces at the beginning of fall.