By Terri-Lee Reid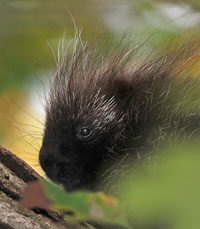 Photo: Tom Lusk
Q. How do porcupines mate?
A. The short answer is very carefully!
In all actuality female porcupines attract several males, but only the male that successfully competes for and defends this female gets to mate with her. This defensive task could last upwards of four days.
When the female is ready, the two engage in a courtship dance that can be recognized with the two in an embrace, standing on their hind feet, producing grunting noises, sometimes even rubbing their noses together. When the dance is finished, the female compresses her quills and moves her tail out of the way so that mating can safely take place.
| | |
| --- | --- |
| | Send Terri-Lee, a Conservation Researcher at CWF, your wildlife questions! Your question and answer could be featured in a future issue of Wildlife Update! |