By Leigh Edgar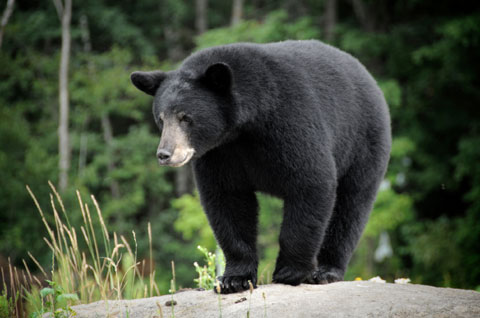 Q. Every year I hear about black bears getting shot because they are seen as a threat to public safety. Instead of killing them, why can't the bears just be moved to a new area?
A. It's certainly not a happy day for anyone when a bear is killed because it's deemed a threat to public safety — especially not for the conservation officers who have to carry out the unfortunate deed. Bears are killed as a last resort and for reasons that are nearly exclusively caused by people.
There's no doubt about it — seeing a bear in the wild is a moving experience. Watching them eat berries or stroll lazily through the forest, smelling the air or scratching against a tree is a prized moment indeed. Some people, however, will do anything to bring the bear just a bit closer, including luring them with food. Bears are extremely intelligent and quick learners — it takes no time for them to associate people with food. When bears lose their fear of humans, they become habituated, meaning that that they will approach people out of habit because their past experiences have resulted in calories they didn't have to work for. This is bad for any bear, but especially so when there are cubs around. Cubs are supposed to learn what food sources are available to them at certain times of the year – which plants yield the greatest nutrition and how to hunt small animals. When they are habituated, they will never learn these survival skills. In fact, their chances of surviving to adulthood greatly diminish.
A fed bear is a dead bear. Feeding bears puts them, by definition, in the realm of humans. Wildlife is most beautiful on its own terms, when it can survive independently of humans in an environment that provides the basic elements for its survival — food, shelter, water and space. Feeding bears — directly or inadvertently by leaving pet food or garbage outside — teaches them habits that puts lives at risk — humans, as well as their own. If bears become used to humans giving them food, they will not be afraid to approach people and may get aggressive when they aren't fed. Bears that frequent areas because of the reliable source of garbage are more likely to encounter people. Suddenly, the once wild bear truly becomes a threat to human safety.
So why aren't "problem" bears just relocated (moved to an area within its home range) or translocated (moved to a new area entirely)?
The fact is, relocating bears is neither reliable nor a long-term management solution. In B.C., for example, black bear long distance relocation is no longer considered a viable option. Bears have large ranges and will seek out reliable sources of food. They'll often travel the impressive distance back to the area where the problems began, or resume the same behaviour in their new location. In addition, the relocated bear can experience significant stress caused by the capture itself, as well as from trying to find food and denning sites in its new area. Sometimes the newcomer succumbs to lethal confrontations with bears already occupying that space. The high cost of relocation coupled with the low rate of success basically translates into a very expensive, time-intensive exercise in futility.
Problem bears are caused by people, plain and simple. Black bears occupy every province and territory in Canada with the exception of P.E.I., and public education efforts on how to keep bears wild and humans safe are abundant. Preventing bears from becoming a problem has been a regular CWF effort through education and raising awareness — it's an important message we can't stress enough. Feeding bears in any way, shape or form, directly or indirectly, is never a good idea. Bears are wild animals. They need for us to act responsibly, not selfishly. An ounce of prevention is worth a pound of cure, which in this case is literally a question of life or death.
Always be aware of what behaviour is appropriate when you venture into bear country, and if bears live in your area, make sure you're not attracting them to your yard. For more information on black bears, visit hww.ca.
| | |
| --- | --- |
| | Send your wildlife questions to CWF's conservation researchers, Terri-Lee and Leigh! Your questions and answers could be featured in a future issue of Wildlife Update! |