By Terri-Lee Reid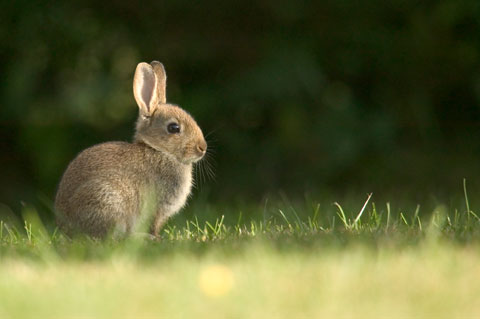 Q. We've had a bit of a boom in our rabbit population in our backyard. And….they're eating my plants! What can I do to stop them?
A. This probably won't make you feel any better but you are not alone! Your flowers and/or vegetables are a tasty smorgasbord for rabbits. The best thing to do is to try and remove the attractiveness of your gardens, as early as possible. Keep reading to find out how to make your plants less appealing to rabbits and how to keep them out of your garden too.
Scent Deterrents:
Make a small pouch out of a nylon stocking or an onion bag and place some dog hair in it. Attach this to a small stick and place in and around your garden. The rabbit will think a predator is near!
Sprinkle dry bloodmeal around target plants to again make the rabbit think a predator is close by.
Taste Deterrents:
Plant garlic and/or onions near the plants you would like to protect or sprinkle garlic and onion powder on those plants for a similar effect. Depending on the size of your garden, some people have had success with planting garlic around the perimeter of their garden.
You can also sprinkle talcum powder on or near the plants as rabbits dislike this taste.
Plant a patch of clover or alfalfa to lure them away from your desired plants.
These deterrents seem to work well for some people but unfortunately not for everyone. To increase your chances of success:
Use as many of them as you can
Reapply every couple of days and after it rains
Start using these deterrents early
Collars and Fences:
Add a collar made from wire mesh around the trunks of delectable young trees.
If you would like to protect your garden with a wire fence, the fence should be 60 to 90 centimetres high above ground and buried an additional 15 cm underground. Underground, it's important to bend the wire at 90° so that it forms a backwards L and extends out another 15 cm.
Good luck!
| | |
| --- | --- |
| | Send your wildlife questions to CWF's conservation researchers, Terri-Lee! Your questions and answers could be featured in a future issue of Wildlife Update! |