By Terri-Lee Reid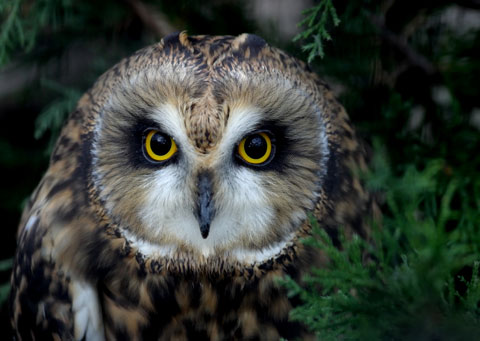 Q. How Do Owls See At Night to Hunt?
A. Owls' eyes have many attributes to help them see in low light conditions. They're large, have an increased number of light-sensitive rods in the retina, and they are set close together and face forward, giving the animal binocular vision. This binocular vision enhances their focus, with both eyes looking in the same direction. To change their view, owls can rotate their head about 270° in either direction, which helps them follow prey.
An owl's keen sense of hearing is also used when pursuing prey. Having one ear opening slightly higher than the other enhances the animal's hearing by helping it accurately determine the distance and direction of a fleeing food source — even a mouse scurrying under snow can be detected! Hearing is also aided by facial feathers, which help direct sound into the ear openings.
With all these factors, owls can be very successful hunters under the moonlit sky!
| | |
| --- | --- |
| | Send Terri-Lee, a Conservation Researcher at CWF, your wildlife questions! Your question and answer could be featured in a future issue of Wildlife Update! |